Listen&Learn: The Library of Discarded Books
Jaksyn Peacock
A library in Turkey that rescues books that have been thrown away.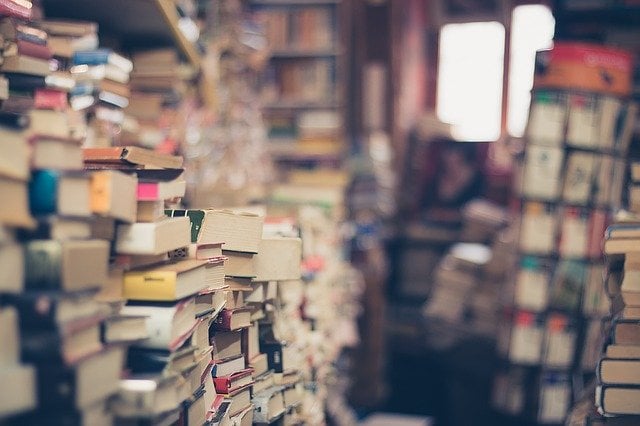 Pre-listening vocabulary
sanitation worker: a person whose job is to collect garbage
salvage: to save something before it is damaged, lost, or thrown away
discard: to get rid of an unwanted item
resident: someone who lives in a certain area
donate: to give something to a fund, charity, or other public cause
abandoned: deserted; left alone
Listening activity
Podcast: Play in new window | Download (Duration: 1:38 — 1.5MB)
Subscribe: Apple Podcasts | Google Podcasts | RSS | More
Gapfill exercise
Comprehension questions
1. The people who originally started collecting books were
The people who originally started collecting books were sanitation workers.
2. The collection began as
The collection began as a supply of books for the workers to borrow from.
3. The library is now located in
The library is now located in an abandoned factory.
Discussion/essay questions
What is the meaning of the saying "one man's trash is another man's treasure"? How is this related to the article?
Transcript
In 2017, a group of sanitation workers in Ankara, Turkey began to collect books that had been thrown away. Their goal was to create a small supply of books for other employees to borrow from. The workers would salvage any discarded books they found while collecting garbage, in order to make sure that other people would get to read them. While this collection began as a supply for the sanitation department's workers, the story of the discarded books was brought to the attention of the public. Soon, residents of Ankara began donating their books to the sanitation department's collection, instead of throwing them away. As the once-small book collection started to grow, the sanitation workers decided to open a public library made up of unwanted books. Today, this library is located in an abandoned brick factory, where there are now chairs and tables so that people can sit and read. It contains thousands of different books, both fiction and non-fiction. In fact, the library has become so successful that schools in Ankara now borrow books from it to use as learning materials.
Written and recorded by

Jaksyn Peacock

for EnglishClub
Search for more Listen&Learn stories:
Subscribe to EnglishClub Podcasts

10 comments
Dori says:


Different people have different interests.This is why that a precious book for someone is a trash for another one.

taylor emily says:


it's very interesting, i can learn a lot of new words.
Thanks very much.

mojgan says:


With thank for your useful texts , they are applicable for other sentence making and i owe you my improve in English language and you can't imagine what a significant role your free education has in widespread English learning.best regards

David says:


Many items which had been discarded by some people could be useful for others. By reusing these objects, it is possible to protect the environment and to save money.

That is excellent for everybody.

Hafsa saeed says:


This is very interesting story ,we are having a number of useless things at our homes,sometimes we feel that we should give these things to others ,at the same time we feel no,no no they will mind it and would not like to receive old things,that's why we through all these things in garbage.surely there are some people who are in the bad need of these things.It is a high time to develop such systems that can save or recycle these kinds of useless things to save our resources.

Tamador says:


Correct this is a matter of recycling it is good idea.Also environmental conservation in stead of burning these book and increase of Carbon dioxide emissions,make use of the garbage.

luis says:


GREAT story !!! The sanitation worker wanted to improve the knowledges of another people who can't buy a book

gerard Le Roux says:


What a lovely story! As an English teacher, I also find it an excellent exercise for beginners, as it includes idioms, vocabulary, as well as a super story line.
Thank you English Club! You are fantastic!

Gérard Le Roux

Irma says:


For Sang Phan… Yes,it very nice story about good people. Thank you for nice idioms.

Sang Phan says:


What an interesting story! In our life there are many things of which we want to get rid are the others' needful ones. We have an idiom "the old of one is the new of another ". This is the same with "one man's trash is another's treasure " I guess.
I think the library of discarded books in Ankara, Turkey is a quite human symbol to be made as many as possible everywhere.