The Haunted Vending Machine in Seattle, Washington
Jaksyn Peacock
All about the vending machine that might have been owned by ghosts.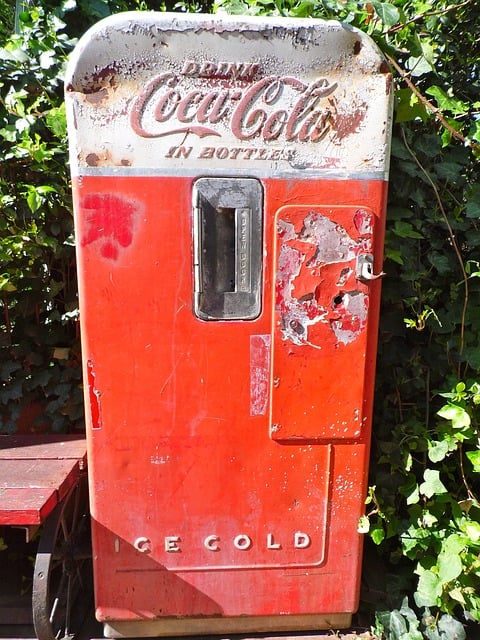 Pre-listening vocabulary
mysterious: unusual and hard to understand
discontinue: to stop making a certain product
curious: interested in learning the truth about something
resident: a person who lives in a particular area
tourist: a person who is visiting a place
restock: to put in a new supply of products
Listening activity
Podcast: Play in new window | Download (Duration: 1:07 — 1.0MB)
Subscribe: Apple Podcasts | Google Podcasts | RSS | More
Gapfill exercise
The Haunted Vending Machine in Seattle, Washington
Comprehension questions
1. The vending machine appeared to be
The vending machine appeared to be very old.
2. Tourists and residents were curious about the machine because
Tourists and residents were curious about the machine because the drinks that came out were ones that had been discontinued.
3. The machine disappeared
The machine disappeared 2 years ago.
Discussion/essay questions
Many people believe that this machine was operated by a ghost. Do you believe in ghosts? Why or why not?
Transcript
For over 15 years, there was a mysterious vending machine on a street corner in the city of Seattle. The machine looked like it was very old, and no one knew exactly where it came from. Each button on the machine was labelled "mystery", and putting in the right amount of money would cause it to dispense a random can of pop. Some of these were drinks that had been discontinued for decades, which made residents and tourists very curious about where they came from. No one was ever seen restocking the machine. Two years ago, it disappeared from its spot on the street. In its place, there was a note that said "went for a walk". The machine still has not been found.
Written and recorded by

Jaksyn Peacock

for EnglishClub
Search for more Listen&Learn stories:
Subscribe to EnglishClub Podcasts

7 comments
Snowy :D says:


Wow! What a wonderful horror story! It really scared me quite much! At first, I don't even believe in ghosts or horror story (this includes horror stories), so I check in the websites in Google and found that it's a real, true, horror story! It made me jump out of my chair and I almost fell down my bedroom's stairs!

Aloc Acoc says:


I worked in Coca cola, 1898 years to lift the machine in Seattle road. They put coins but sometimes they didn't get the Soda. I repaired the machine for 13 years in Washington. I wanted to sell Coca Cola bottle for 13 years. In the end, I walked on the road, got a lot thirsty, so I drank all the Coca
Cola. Then I lifted the Vending machine.

Jack says:


Thanks very much for sharing。
I believe ghost。All over the world there are many mysterious things that we can not explain。
So we will have many challeage in the future。

Hana says:


first, thanks alot for sharing this interesting story with me.
It's a bit creeping, but i like it. yeah, and the record is good.
Secondly, i think that vending machine wasn't operated by a ghost. hmm, maybe by an… old man or a veteran or someone like that, i guess.i don't really believe in ghost 'cause i haven't seen them before. However, i fear the darkness and believe in 'wizarding world'. That's so strange, isn'i it?

Bijan says:


Hi Jaksyn,

First, thank you for this week's lesson.

Second, I could only answer the question of three the comprehension and could fill in the blanks the words "corner" and "disappear".

Third, I feel the lesson is so difficult for me. Of course, you have spoken clearly and slowly, but I understood the subject hardly.

Fourth, I myself hardly believe in the ghost because we live in a modern world that the technology has improved so much and everything is possible with the modern technology, so in above case it's possible someone has used the advanced technology for doing the subject.

Teacher Jaksyn,
Thank you so much for doing the best for your students.

Best wishes,
Bijan
from the Persian Gulf

André says:


I do not believe in gosth

the things that I do not understand seem for me mysterious.
But when I have the explanation nothing is mysterious

Andrei says:


I believe ghost 👻