Listen&Learn: Rubber Ducks Lost in the Ocean
Jaksyn Peacock
How a failed shipment of rubber ducks helped scientists understand ocean currents.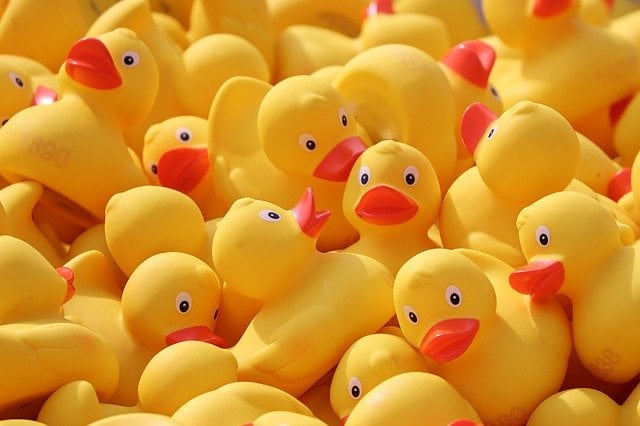 Pre-listening vocabulary
crate: a large wooden box used to transport items
financial: relating to money
scavenger: a person who collects items that were thrown away
oceanographer: a scientist who studies the oceans
current: the flow of water in one direction
awareness: knowledge of an issue or event
collectible: an item considered valuable to collectors
Listening activity
Podcast: Play in new window | Download (Duration: 1:49 — 1.7MB)
Subscribe: Apple Podcasts | Google Podcasts | RSS | More
Gapfill exercise
Comprehension questions
1. The first rubber ducks were found in
The first rubber ducks were found in Alaska.
2. The oceanographers studied the ducks in order to
The oceanographers studied the ducks in order to map out ocean currents.
3. Today, these rubber ducks are valued at
Today, these rubber ducks are valued at $1000.
Discussion/essay questions
The now-famous rubber ducks were originally found by scavengers looking for interesting items along the shore. Have you ever found anything interesting on a beach?
Transcript
In 1992, a cargo ship on its way from Hong Kong to the United States lost a crate in the Pacific Ocean. That crate contained over 28,000 rubber ducks, most of which are still in the ocean today. At first, this was simply seen as a small financial loss. However, a few of these ducks made their way to the coast of Alaska, where they were found by scavengers. After this discovery, a team of oceanographers decided to track the ducks as they moved around the world. The oceanographers offered $100 rewards to anyone who found one of these ducks, so that they could make a map of the ducks' journey. Rubber ducks began to appear in Japan and Australia. Some even travelled across the Arctic Ocean, ending up on the coasts of North America and Europe. The oceanographers used the information they'd gathered from studying the ducks to confirm their predictions about the paths of major ocean currents. The story of the ducks was also used to raise awareness about the dangers of dumping plastic in the ocean. Today, these rubber ducks are still being found on shores. They have even become highly valued collectibles – often being sold for up to $1000.
Written and recorded by

Jaksyn Peacock

for EnglishClub
Search for more Listen&Learn stories:
Subscribe to EnglishClub Podcasts

18 comments
Cat says:


Ok

Snowy :D says:


This is brilliant! Firstly, I improved my English Listening skills by doing English Club's listenig practise. Secondly, I learnt many interesting facts in all these comprehentions and listening! It made me more smarter and my brain is already full of interesting knowledges! Thank you for such a brilliant and great practise! It made my brain more fuller!!!

Sonja says:


I agree with the others that it is important to maintain the ocean clean, but it is also unhealthy for the people when fishs eat the plastic and fishs are being eaten by people.
Sharks are eat everything.

Very nice says:


It's very important to listen to learn English speaking skills.

Brithany Flores says:


Good reading,very interesting to read.

Brittany Tavares says:


–

Avishek Sarker says:


Nothing to say….It was so interesting!

Stella says:


The story of the ducks was also used to raise awareness about the dangers of dumping plastic in the ocean.It's true indeed.

masoud says:


cleaning ocien from Rubber Ducks is very important beacause:
all of the animall same many fishs eat thease Rubber Ducks and their will died !

Omar Hassoun says:


It's important

Asmaa says:


It was interesting 💛💛

Sang Phan says:


I read and listened to this short text many times before doing gapfill exercises. The first four gaps are easy for me but the last is not.I found out the word"information" after listening to it so many times to recognize it.
I totally agree with some of my friends: this lesson is very interesting and the oceanographers understand major ocean currents thanks to the paths of rubber ducks in the ocean. In addition, people are aware of the danger of plastic waste in the ocean as well.

María del Pilar Castillo Pinilla says:


The reading is very interesting because to hep us understanding the danger of different contamination in the ocean.

Gloria Cardona says:


The Rubber Ducks Lost in the Ocean: Was a very interesting lesson because its very important to maintain the Ocean clean. I learn vocabulary and I listen many time until I understand perfect. I Like de English Club. Our Teacher share us the link and he said, I recommend this page to continuing studying Englis from your house.
Thanks English Club !

Christine PENNEC says:


very good!

Denis says:


Very interesting! Thanks Jaksyn!

Shima naderi says:


that was a good exam for me. i enjoyed

Claire-Jule Jeune says:


I like this classe.