Albert Einstein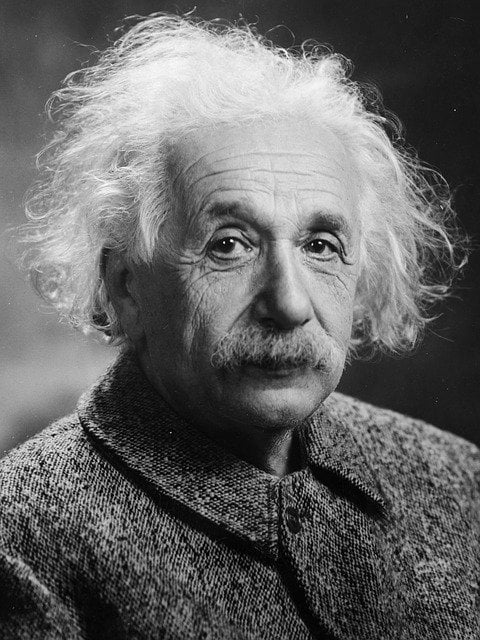 Pre-listening vocabulary
influential: important and powerful; having influence
fascinated: very interested in something
introduce: to make something known for the first time
achievement: something that is completed successfully
target: a person that a certain group wants to attack
physicist: a scientist that specializes in physics
Listening activity
Podcast: Play in new window | Download
Subscribe: Android | Google Podcasts | RSS
Gapfill exercise
Comprehension questions
1. Albert Einstein was born in
Albert Einstein was born in Germany.
2. At university, Einstein studied
At university, Einstein studied physics.
3. Einstein moved to the U.S. because
Einstein moved to the U.S. because he had to protect himself from the Nazis.
Discussion/essay questions
Some people wanted to use Einstein's discoveries to develop weapons, such as the atomic bomb. What is your opinion on the use of new scientific discoveries to build stronger weapons?
Transcript
Albert Einstein was one of the most influential scientists of the 20th century. He was born in Germany in 1879, and he began attending school in 1885. As Einstein got older, he became fascinated with the nature of light. He wrote his first scientific paper at the age of 16, and later went on to study physics at a university in Switzerland. In 1905, Einstein published four scientific papers. The papers introduced his theory of special relativity, which allowed scientists to better understand the connection between time and space. Einstein won the Nobel Prize in 1921 for his achievements. In the 1930s, however, Einstein became a target of the Nazi Party of Germany. He moved to the U.S. to protect himself, and continued to work as a physicist. Einstein died in 1955, but his brain is still kept in the Princeton University Medical Center. Scientists still study it today.
Written and recorded by

Jaksyn Peacock

for EnglishClub
Tags: einstein | germany | nobel prize | physics | science | scientist | space | special relativity | theory | time
Subscribe to EnglishClub Podcasts

46 comments
saeed says:


don

almurr says:


thank you

mansour says:


thanks

Joaquin says:


easy

Tito says:


easy

Tito says:


easy

Carlos says:


I liked this office very good

Elia May says:


It was a great listening experience! Einstein is cool 😉

Mario says:


I liked this reading and listening

Celia says:


very good!

aroa says:


very good

ainhoa says:


very good!

Elizabeth says:


Excellent!😀

Xavier says:


Ok

Gerard says:


A great Merci, very useful

Tamer Shatla says:


very useful,
thank you.

Destiny says:


Wow it's really useful. Thanks a lot

Elie touma says:


Not bad

Jun says:


I'M VIETNAMESE BUT I CAN HEAR ALSO THE LISTEN EXERCISE THANKS AND WISH YOU HAVE MORE IT SO I CAN PRACTISE MY ENGLISH

Bastien says:


good job

Pisey Say says:


very useful

evanilde says:


just perfect : listening reading comprehension

Boraz Matteo says:


Bonjour

Yanis says:


This site is useful and easy to use.

Sohailz Zouhri says:


Very good ans useful

Fouquet Nael says:


I learned more about the greatest physicist

Joyce says:


so useful.Many thanks

GLON says:


I have two observations
first Why you don't date your articles like before January
Second I suggest you to have all text in the window viewing including the bar listening
It will be easier to listen all the text and fill the blanks without mooving anything
Thank you
A wink from France

Giraud Raphael says:


it was very good

hương says:


it help me a lot in learning

vann says:


can help me practise english in this disease thanku

Sunlee says:


great, it's so amazing. This is the first time that i try english club.

Chi says:


Very useful for student, it's simple and slow speed reading. Thanks a lots for this

Mei says:


very useful. It helps me a lot. Thank you!

Md Shahariar Chowdhury says:


it;s very useful

Thao says:


I can properly comprehend with slow speed reading. Thanks a lot.

Saadia says:


It was very interesting lesson to practice writing and listening thank you

Diamond says:


very good,i like study type this so much,so useful

lam says:


very helpful

Natachz says:


Thanks a lot, it'svery helpful for me, above aller vocabulary and listening.

Leidy says:


Thanks a lot for this , is a great useful way to practice lisening and reading understanding.

Mahamat Nassour Abdelkérim says:


It's was very helpful lesson to let you to know more about knowledge.

Anantaya says:


It's very useful.

Cate says:


Good. But transcript is not exactly the same as the listening and gapfill isn't complete.

Arundhathi says:


Very simple and useful to both children and teachers

jessie says:


very useful