Listen&Learn: Edgar Allan Poe
Jaksyn Peacock
Learn about the famous horror writer from the 19th century.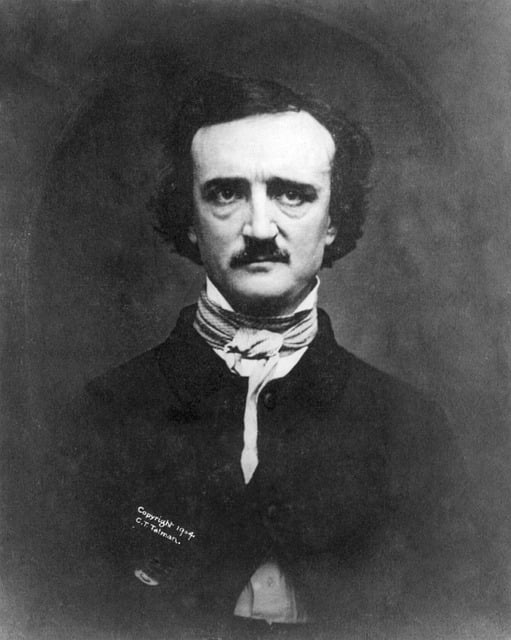 Pre-listening vocabulary
critic: a person who gives their opinions about something
horror: a genre of storytelling that uses fear
grieve: to feel pain after someone's death
praise: positive comments about something
renowned: famous, well-known
dispute: disagreement about something
Listening activity
Podcast: Play in new window | Download (Duration: 1:14 — 1.1MB)
Subscribe: Apple Podcasts | Google Podcasts | RSS | More
Gapfill exercise
Comprehension questions
See answers below
Edgar Allan Poe was from
a. England
b. the United States
c. France

When Poe published his first poetry collection, he was
a. 9 years old
b. 18 years old
c. 27 years old

In 1845, Poe published
a. "The Raven"
b. "The Tell-Tale Heart"
c. "The Black Cat"
Discussion/essay questions
Many of Poe's stories and poems are very dark and disturbing. Do you like horror stories? Why do you think they appeal to people?
Transcript
Edgar Allan Poe was an American writer and literary critic. He is known for his horror stories and poems. Poe was born in 1809 in Boston, Massachusetts. He started writing poetry when he was a child, and he published his first collection of poems in 1827, at age 18. However, his early work was not very successful. In 1845, Poe published his famous poem "The Raven", about a grieving man who meets a talking raven. This piece gained a lot of praise, and Poe became renowned for his storytelling. Still, he was never paid much money for his work. He also struggled with alcoholism for many years. Poe's death in 1849 was almost as mysterious as his stories. Even today, there is dispute about what really happened to him.
Answers to comprehension questions
1b 2b 3a
Written and recorded by

Jaksyn Peacock

for EnglishClub
Search for more Listen&Learn stories:
Subscribe to EnglishClub Podcasts

8 comments
Minaxi says:


Dear Peacock,
Thank you for preparing an excellent lesson for us.

dr Mumen Badarin says:


thanks a lot for this wonderful exercise, I like it and I think it is a very fruitful way in teaching english for foreigners

Elyas Achakzai says:


I don't want to speak English please get me some trick

Salwa says:


I don't like horror movie but many young people like this kind of movies

Pavlina says:


Thank you for the listening exercises! I need this. Any chance for more questions on the text to practice our comprehensive skills?

Teacher Edward Kunda Matanda says:


I WOULD LIKE TO READ THE POEM ANNABEL LEE. I DID IT AT UNVERSITY DURING OUR ANGLO-AMERICAN LITERATURE COURSE.

Consuelo says:


I would like reading a lot of stories plass questions about its. To Understand the Listening isn't easyJet for me.

Thanks

The King Of Love From IRAN says:


Thank ❤️YOU❤️ for sharing it with us,