Listen&Learn: Stephen Hawking
Jaksyn Peacock
Posted by: Jaksyn Peacock
Learn about the physicist who wrote A Brief History of Time.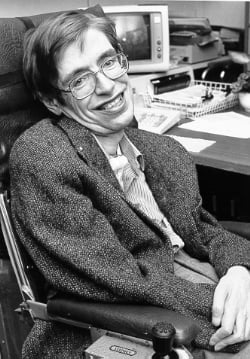 Pre-listening vocabulary
physicist: a scientist who studies physics
diagnose: to identify an illness by studying a person's symptoms
condition: a medical issue
black hole: a region of space where gravity is so strong that nothing can escape
speech synthesizer: a machine used to produce human speech
Listening activity
Podcast: Play in new window | Download (Duration: 1:26 — 1.3MB)
Subscribe: Apple Podcasts | Google Podcasts | RSS | More
Gapfill exercise
Comprehension questions
1. After Stephen Hawking was diagnosed with ALS, his doctor told him that
After Stephen Hawking was diagnosed with ALS, his doctor told him that he would only have two years to live.
2. Hawking was known for his research on
Hawking was known for his research on black holes.
3. Hawking lived until the age of
Hawking lived until the age of 76.
Discussion/essay questions
Stephen Hawking once had a party for time travellers. He didn't send the invitations out until the day after the party, so that only people from the future could show up. It was an experiment that was meant to show that time travel to the past was unlikely to be possible. Do you think that time travel could ever be possible? Why or why not?
Transcript
Stephen Hawking was an English physicist. He was born in 1942 in Oxford, England. Growing up, Hawking was always very interested in math and science, and at age 17, he decided to pursue a physics degree. However, at age 21, Hawking was diagnosed with ALS, a serious condition that weakens nerves and muscles. His doctor didn't expect him to live more than two years after his diagnosis, but Hawking was determined to get his degree. He achieved his goal, and he is now well-known for his research on black holes. Throughout his life, he also published several books about the universe. His most famous book, titled A Brief History of Time, was written to help ordinary people understand complex scientific concepts. Hawking lived much longer than expected, but his condition worsened as his life went on. Eventually, he had to use a wheelchair to move around, and a speech synthesizer to communicate. Hawking died at the age of 76, after living a full and accomplished life.
Written and recorded by

Jaksyn Peacock

for EnglishClub
Search for more Listen&Learn stories:
Subscribe to EnglishClub Podcasts

20 comments
Marcia Stewart says:


With my amyotrophic lateral sclerosis (ALS), the first thing that happened almost 2 years ago now, was speaking as if I were drunk. I wasn't. I initially did improve speech (articulating clearly but slow) but now I can no longer speak in an acceptable way. Then, a year later eating became problematic, I was biting my tongue and lips, and chewing became weak and less controlled. Soon after that some fingers started to fail me and things would drop out of my hands. Somewhere at that time bulbar ALS was diagnosed. The Rilutek (riluzole) did very little to help me. The medical team did even less. My decline was rapid and devastating.. We tried every shot available but nothing was working. There has been little if any progress in finding a reliable treatment, Our care provider introduced us to Kycuyu Health Clinic ALS/MND herbal treatment.

oliver zheng says:


cool!

Samya Adam says:


Very interested and easy

Samya Adam says:


Very easy

Harini S says:


People who are not born will disappear

Harini S says:


No, Time-Travelling is not possible. If humans try to make one, I am sure it will take at least 100 years. Even if they succeed to make one, it is against Nature's Law. And, it won't always work properly. If it goes wrong, the person who traveled will be the reason for many people's disappearance as the person is stuck in the time, Dead will become alive and people whose relatives are dead will become alive, and people who are born in that year will disappear.

Carmen Pérez says:


I found this lesson very helpful to improve my English conversation

Thanks

Stephany Ramírez says:


No, I don't think it's possible. Once I read a theory that says Spacetime is a single four-dimensional manifold; so we cann't travel to the past because would have to decrease the space that already exists, and we can't travel to future because that space doesn't exist at this moment.

Solo says:


Sure,I believe it can be possible.because we already known about parallel universe.maybe just a little bit.

Farzad says:


A good article for learning English and also an inspiring story for self improvement.

Mansour says:


It is a easy and pretty text about a great scientist.

Ulises Rojas S. says:


A short history about Stephen Hawking, but the reader can make himself an idea, who was this famous and important scientific.

Ulises Rojas S. says:


A short history about Stephen Hawking, but the reader can make himself a idea, who was this scientific.

Lucy F. Scott says:


Awesome! Very helpful in my process of listening and writing .
thank you.

Somayeh Rahmati says:


Your exercise is so much good

Thanks

Eda Korkmaz says:


It was very useful. Thank you so much for this exercise

Deepa says:


Very useful

Joseph Puspana says:


How was a great spirit for struggling.

rossanny rodriguez says:


good morning

I find this dynamic excellent, it is helping me a lot for my learning in the part of reading, listening and reading comprehension

PENNEC Christine says:


wonderful!!