Listen&Learn: Wolfgang Mozart
Posted by: Jaksyn Peacock
Learn about one of the greatest composers in history.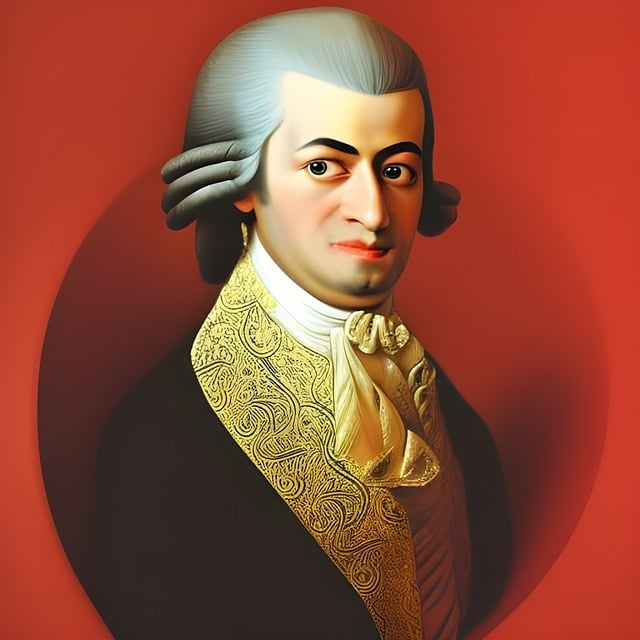 Pre-listening vocabulary
composer: someone who writes musical pieces
prodigy: someone who is unusually skilled, especially at a young age
tour: to travel to different places to perform a show
talented: having impressive abilities
struggle: to have problems or difficulties
financial: relating to money
Listening activity
Podcast: Play in new window | Download (Duration: 1:16 — 1.2MB)
Subscribe: Apple Podcasts | Google Podcasts | RSS | More
Gapfill exercise
Comprehension questions
See answers below
Mozart was born in
a. Salzburg
b. Vienna
c. Linz

Mozart's father was a professional
a. conductor
b. violinist
c. pianist

When Mozart was seven,
a. he learned to play the piano
b. he composed his first pieces
c. he started touring Europe
Discussion/essay questions
Why do you think so many great artists fail to make money?
Wolfgang's sister, Nannerl, was also a musical prodigy. However, because she was a woman, she had to give up her career once she was old enough to get married. Do you think the world would look very different today if women's work was valued in history? Why or why not?
Transcript
Wolfgang Amadeus Mozart was an Austrian composer. He was born in Salzburg in 1756. His father, Leopold, was a professional violinist, and he taught Mozart to play and write music from a very young age. Mozart was a child prodigy. He began composing when he was only five years old. When he was seven, he began touring Europe with his older sister, who was also very talented. He composed over 600 pieces in his lifetime. Even though he was famous for his work, Mozart struggled financially later in his life. He also became ill while writing Requiem in D Minor, his final piece. He died when he was only 35, and Requiem in D Minor was left unfinished.
Answers to comprehension questions
1a 2b 3c
Written and recorded by

Jaksyn Peacock

for EnglishClub
Search for more Listen&Learn stories:
Subscribe to EnglishClub Podcasts

4 comments
Lyudmila says:


It was one of the greatest composers of the world. You feel it especially clear, if you listen to his music in your childhood. As I learned his works at teachers' college, when I was 17 years old, I didn't think about technik, the music fascinated me so much, that I was often sitting without any other thoughts and feelings, being highly impressed by charming melodies and their ideas.I sometimes try to play his music yet. I hope my granddaughter will like Mozart's music, too, as much, as I did.

Amal says:


Honestly in the beginning I didn't understand the article and don't like it after few times I had listened I enjoyed so mush and I feel sorry for Wolfgang Amadeus Mozart,he died in ab early age with ill .and he was poor . that's mean even if the person has talent prodigy may will die without anything earned.

Padmavathi says:


After he died what happened to his sister

Joseph GLON says:


All famous person die without becoming rich It's a sad destiny
Life is rude for them
thy don't inherate the fruit of their talents
A wink from France