Listen&Learn: The History of Airplanes
Jaksyn Peacock
Learn about the flight of the first airplane.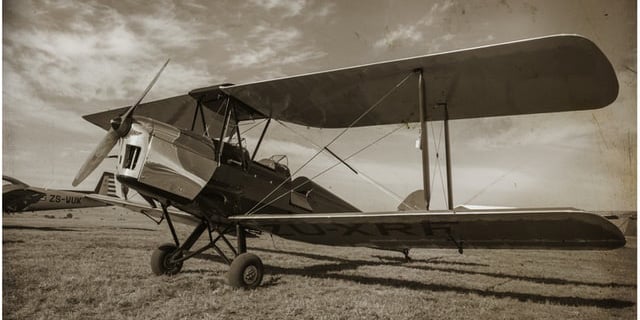 Pre-listening vocabulary
glider: an aircraft with wings and no engine
pilot: someone who controls an aircraft
design: to plan the creation of something
progress: to get better or more advanced over time
commercial: relating to sales
Listening activity
Podcast: Play in new window | Download (Duration: 1:16 — 1.2MB)
Subscribe: Apple Podcasts | Google Podcasts | RSS | More
Gapfill exercise
Comprehension questions
See answers below
The problem with gliders and hot air balloons was that
a. they couldn't be easily controlled
b. they were difficult to make
c. they didn't have room for passengers

The Wright Flyer made its first flight in
a. 1903
b. 1905
c. 1910

By 1905, the Wright brothers' plane could
a. house multiple passengers and cargo
b. stay in the air for several minutes and fly in circles
c. land on and take off from water
Discussion/essay questions
Do you travel often? How do you feel about air travel?
Transcript
Many people throughout history tried to solve the problem of flight. Although people had managed to build gliders and hot air balloons in the 18th and 19th centuries, these aircraft could not be easily controlled. The first powered aircraft that could be controlled by a pilot was known as the Wright Flyer. It was designed by American inventors Wilbur and Orville Wright. Its first successful flight took place in December 1903, in Kitty Hawk, North Carolina. The brothers flew the plane four times in one day, with the longest flight lasting 59 seconds and travelling over 800 feet. By 1905, they had created a plane that could stay in the air for several minutes and fly in circles. After that, aircraft technology progressed very quickly for military and commercial use.
Answers to comprehension questions
1a 2a 3b
Written and recorded by

Jaksyn Peacock

for EnglishClub
Search for more Listen&Learn stories:
Subscribe to EnglishClub Podcasts

3 comments
Siomara de Cássia Miranda says:


Dear Jaksyn Peacock, please, you forgot to mention that on November 12th, 1906, Santos-Dumont, a Brazilian inventor, flew a kite-like contraption with boxy wings called the 14-Bis some 722 feet (220 meters) on the outskirts of Paris. It being the first public flight in the world, he was hailed as the inventor of the airplane all over Europe.
the Wright brothers' flight did not fulfill the conditions that had been set up at the time to distinguish a true flight from a prolonged hop.But Santos-Dumont's flight did meet the criteria, which in essence meant he took off unassisted, publicly flew a predetermined length in front of experts and then landed safely.
"If we understand what the criteria were at the end of the 19th century, the Wright brothers simply do not fill any of the prerequisites.

The King Of Love From IRAN says:


Thank❤️YOU❤️for sharing it with us,

Christine PENNEC says:


interesting description. Thanks