Listen&Learn: The Chernobyl Disaster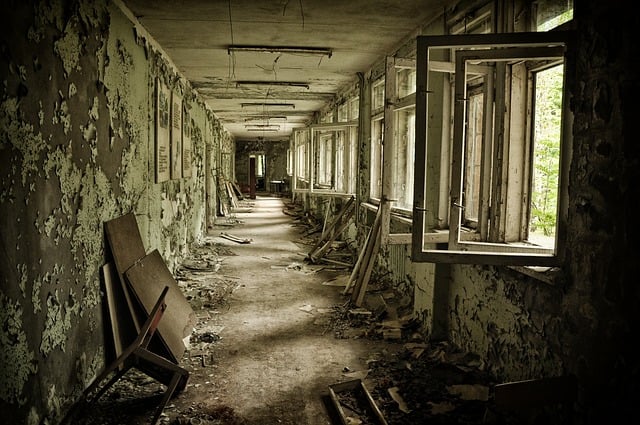 Pre-listening vocabulary
nuclear reactor: a device that generates heat and power by splitting atoms
maintenance: the work done on a machine to keep it in good condition
radiation: a dangerous type of energy released from a nuclear reaction
evacuate: to leave an unsafe place
exclusion zone: a restricted area where certain activities are not allowed
contaminated: polluted with something hazardous
habitable: safe to live in
Listening activity
Podcast: Play in new window | Download
Subscribe: Android | Google Podcasts | RSS
Gapfill exercise
Comprehension questions
1. When the explosion occurred, the plant workers were
When the explosion occurred, the plant workers were performing maintenance checks.
2. Most of the deaths from the Chernobyl disaster were caused by
Most of the deaths from the Chernobyl disaster were caused by radiation sickness.
3. The exclusion zone is now
The exclusion zone is now safe for people to visit.
Discussion/essay questions
Nuclear power is a controversial topic. Many people are afraid of the potential dangers that nuclear power plants could cause. Chernobyl is a good example of this. However, nuclear power is a useful source of energy that doesn't release carbon dioxide. How do you feel about nuclear power? Is it too dangerous, or are the benefits are more important than the risks?
Transcript
On April 26, 1986, the nuclear reactor of the Chernobyl Power Plant in Ukraine exploded. The explosion occurred early in the morning, while plant workers were performing a maintenance check. They had turned off a control system that was keeping the reactor stable. The initial explosion killed two of the workers, and 28 other workers died of radiation sickness in the months after the disaster. The explosion also caused residents of a nearby town called Pripyat to be exposed to radiation. Because of this, the residents were forced to evacuate and find new places to live. In order to prevent more deaths from radiation exposure, the government of what was then the Soviet Union created an exclusion zone around the Chernobyl plant. Although the zone is now safe for tourists to visit, scientists believe that the most contaminated areas will not be habitable for over 20,000 years.
Written and recorded by

Jaksyn Peacock

for EnglishClub
Tags: explosion | historical event | nuclear power | radiation | soviet union | tragedy | ukraine
Subscribe to EnglishClub Podcasts

15 comments
BALDE, boubacar siddy says:


I like this exercise … you have the best teaching method ✅✅✅✅✅✅✅

Virginia says:


Wonderful! Thanks for sharing

Aden says:


This is gonna make me a great student speaker like a native

Marlon Plaza says:


I liked this exercise.

Sayid Abdi says:


Hello everyone in here,this very useful and beneficial for all begginers and really I'm deeply saying thank you Englishclub groups and also the participants.

Maria says:


this excersice is useful and practical to study English.

Solibella says:


Excellent for practicing listening. It is a interesting topic.

Andy says:


It's really useful and easy to for the beginner level. Thank you so much.

Vanessa says:


I think there are other news sources of clean energy that would be better and safer for all of us. Nuclear power should be replaced with green energies.

Elizabeth Nuñez says:


Excellent listening exercise for beginners. Clear pronuntiation and enough space between words to be completed.

Hana says:


Nuclear energy is very difficult and dangerous to use, if it can be used, it has its own beauty. The nuclear plant option should be a backup plan for the supply of electricity, instead building clean plants on new ground.

Luis says:


Nuclear plants should be wiped out and substituted by renewable energy suppliers. There is deniable ongoing improvement and development in green resources, which are capable to provide as much energy as necessary if the appropriate measures are put in practice.
That catastrophe is just a small sample of how risky and ultimately dangerous these sort of energy generator plants are for humanity and the wellbeing of our planet.

David Martín says:


Nuclear energy is extremely dangerous and there are green energies that can replace it.

We have to reward companies that use renowable energy and support investigations to improve these kinds of energy.

Asoka Wimalasena says:


Countries should focus more on other power generating sources as Sun panels, Wind turbines, Hydro turbines and sea waves. Nuclear plant should be operate as the last option and under high global and security controls.

Syeda Aniqa Gul says:


Nuclear power plant option should be treated as secondary option for power generation.The most reliable option is to establish long term sustainable hydro power projects which is safe and secure for people.