Listen&Learn: Geneva Conventions
Posted by: Jaksyn Peacock
Learn about the agreements that created international laws for war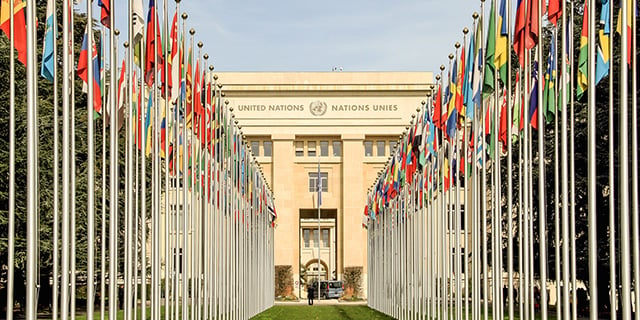 Pre-listening vocabulary
international: across multiple countries
ethics: beliefs about which actions are right and which are wrong
neutral: not choosing a side in a conflict
establish: to create a system or law
treaty: an agreement between multiple countries
expand: to make something larger or more detailed
civilian: someone who is not a soldier
Listening activity
Podcast: Play in new window | Download (Duration: 1:47 — 1.6MB)
Subscribe: Apple Podcasts | Google Podcasts | RSS | More
Gapfill exercise
Comprehension questions
See answers below
The first Geneva Convention took place in
a. 1864
b. 1918
c. 1949

The purpose of the first Geneva Convention was to create protections for
a. prisoners of war
b. civilians
c. injured soldiers

The original agreement was signed by
a. four countries
b. six countries
c. twelve countries
Discussion/essay questions
Switzerland's neutrality has caused a lot of debate. What is your opinion about countries staying neutral in wars? What are some good reasons to be neutral? Do you think it is ever unacceptable not to choose a side?
The red cross, crescent, and crystal are all recognized symbols for medics in war. Which symbol does your country use?
Transcript
The Geneva Conventions are the agreements that created an international code of laws and ethics for war. They took place in Geneva, Switzerland, because of the country's historic neutrality. The first Geneva Convention was in 1864. It established laws to protect soldiers who had been injured in combat. It also formally recognized the red cross as a neutral symbol for medics. Twelve countries signed this original agreement, and four more joined by 1867. After World War II, many countries agreed to revisit the treaties. In 1949, the Geneva Convention was expanded to four sections. The second, third, and fourth Geneva Conventions included protections for civilians and prisoners of war. Since then, 196 countries have signed the Geneva Conventions, including all members of the United Nations.
Answers to comprehension questions
1a 2c 3c
Written and recorded by

Jaksyn Peacock

for EnglishClub
Search for more Listen&Learn stories:
Subscribe to EnglishClub Podcasts

5 comments
Archana says:


Thanks for providing the informative materials! It helps us a lot in improving our listening and writing skills.

Naw Tamalar Thaw says:


Excellent

Saeed Shadrou says:


I really don't know how to thank yo.
You are doing the best of the best.
Thank you just the same.

Jacinto Bento says:


Although many things have changed since the first Geneva Convention, some of its agreemments remain current today.

Pushpa Hettiarachchi says:


👍
Good for us to improve our speaking and lustening.