Listen&Learn: The Russian Revolution
Jaksyn Peacock
How the effects of World War I caused Russia to become a communist country in 1917.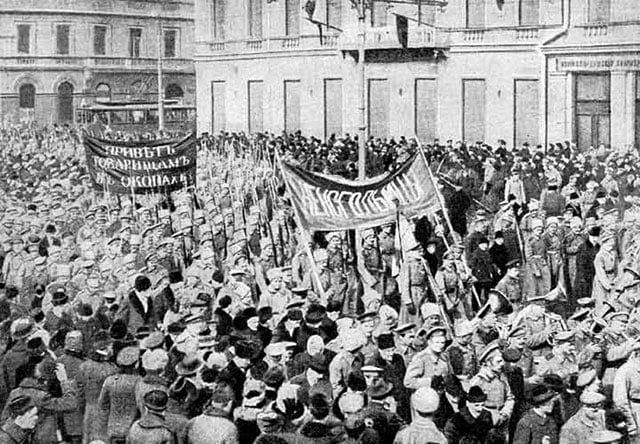 Pre-listening vocabulary
revolution: a successful change in a country's political system
rebel: to stand up against a government or system
famine: an extreme shortage of food
poverty: a lack of money and resources
party: an organized group that attempts to gain political power
communism: a system where the government controls the production of goods
Listening activity
Podcast: Play in new window | Download (Duration: 1:19 — 1.2MB)
Subscribe: Apple Podcasts | Google Podcasts | RSS | More
Gapfill exercise
Comprehension questions
1. The Russian Revolution began in
The Russian Revolution began in 1917.
2. The people of Russia were protesting
The people of Russia were protesting poor working conditions.
3. The ruler of Russia at the start of the revolution was
The ruler of Russia at the start of the revolution was Tsar Nicholas II.
Discussion/essay questions
Imagine the Russian Revolution never took place. How would this change the course of history?
Transcript
The Russian Revolution was a period of time when the working class of Russia rebelled against the government. This revolution began in 1917, when Russia was still involved in World War I. The war had caused famine and poverty throughout the country. The people of Russia suffered poor working conditions, long hours, and low pay. In early 1917, the workers decided to go on strike. They were standing up against Russia's ruler, Tsar Nicholas II. A political party known as the Bolsheviks, led by a man named Vladimir Lenin, was gaining support from the working class. The Bolsheviks believed that communism was the only solution to poverty in Russia. After the protests became too much to handle, Nicholas II was forced to step down from the throne. The Bolsheviks gained power soon after that, and Russia became a communist country.
Written and recorded by

Jaksyn Peacock

for EnglishClub
Search for more Listen&Learn stories:
Subscribe to EnglishClub Podcasts

26 comments
Julie says:


I am peruvian and during the 80 until early 90s, a couple of terrorist group called MRTA and Sendero Luminoso wanted Peru became a communist country. It caused 20k deaths of innocent people, most of them belonged from the poorest towns. As far as I know, it is not the best way to handle a country. Fortunately, the head was captured and send to jail for life. It is said, that still there are a few people in the peruvian jungle who believe in communism and have connection with people in Europe.

Arshad Ali says:


it is amazing pice of information and well practice of learning.
thank you

Alba luz says:


Good exercise. Thanks!

omar Mendez Medina says:


the good job

Samuel says:


Thanks for all.

Lui Alberto busto rodriguez says:


Ihave the best opinión about your history lesson in English,luis

BALDE BOUBACAR SIDDY says:


THANK YOU , THIS HISTORY IS HELPING ME TO LEARN VOCABULARY AND PRONOUNCIATION.

Ângela Hollomon says:


Thank you English Club. Excellent idea to teach English thru real life experiences.

sera noman says:


thank you this history was useful end i love to hear more

Ulises Rojas S. says:


Maybe Russia would had evolutioned forward a country with a Monarch wiht a parliamentary sistem of Government, like other countries of west Europe, like England and would had evited the hight number of deaths caused by the communism sistem.

murat Y says:


It would be better if the webpage could check Gapfill exercise answers for me

Mahir says:


Thanks it iş usefull

Senorina says:


Thanks l learn how to use vocabularies.excellent work

Senorina says:


Thanks l learn ho to use vocabularies

Khadijatul kubra says:


Thank…and help us

Manoboy says:


Very useful vocabulary.

sara vegan says:


Very useful part

Jocelyne says:


All révolutions always begin when the people suffer. To me, it is very difficult to listen and understand without read but when I do it I understand.
Thanks.

tommy says:


just simple thought that if the revolution never took place then the Russia would still be a monarch country with parliamentary system elected by the people, only if Tsar Nicholas II were willingly agreed with the change. The change that not only Russia will experience but also fellow monarch countries in the region.

Mayada kachich says:


Thanks it worth I learned good vocabulary and and information

Luis Jiménez says:


This story prove that bad governments encourage revolutions with their decision against pour people and increase their needs to drive them to an extremely situation in which there is not enough food for the totally folk. In the same way, nobody has any opportunity to work for supporting their family. Now, we are going to change in order to avoid another similar state of affairs.

Muddasser Sharif says:


It was very interesting quiz.

Oliver luyano Perales says:


Excellente

Oliver luyano Perales says:


Excellent Thank you

The King Of Love From IRAN says:


I wish you love & peace,

Alfredo Vivalda says:


Working ahead