The Causes of World War I
Jaksyn Peacock
Learn about the conflict and assassination that caused World War I.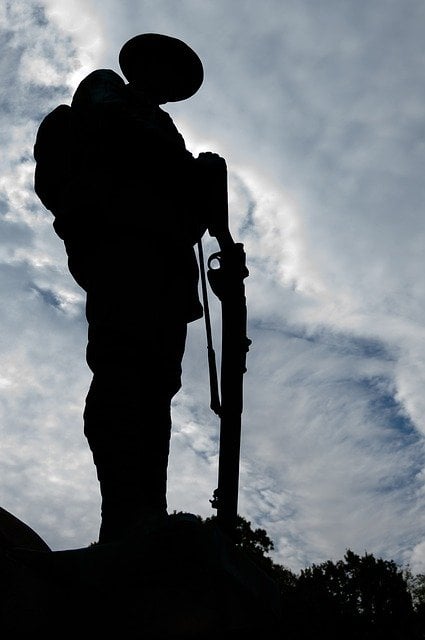 Pre-listening vocabulary
assassinate: to kill an important person, especially for political reasons
nationalist: someone with an extreme sense of loyalty to their country
escalate: to grow, to increase
alliance: a group of countries who have agreed to help and protect each other
armistice: an agreement between opposing groups to stop fighting
Listening activity
Podcast: Play in new window | Download (Duration: 1:16 — 1.2MB)
Subscribe: Apple Podcasts | Google Podcasts | RSS | More
Gapfill exercise
Comprehension questions
World War I began in 1914.
2. The members of the Triple Entente were
The members of the Triple Entente were Russia, France, and Britain.
World War I ended when both sides signed an armistice.
Discussion/essay questions
Do you know anyone who has fought in a war? What were their experiences?
Transcript
World War I began in 1914 when Archduke Franz Ferdinand of Austria-Hungary was assassinated by a Serbian nationalist. After this, Austria-Hungary declared war on Serbia. This conflict began to escalate because of the many alliances in Europe at the time. Germany supported Austria-Hungary in the conflict, and Russia sided with Serbia. Russia was also part of a larger alliance known as the Triple Entente, which included France and Britain. Eventually, more countries began to join the war. This war was different from previous wars because of new technology such as machine guns, tanks, and airplanes. World War I lasted until November 1918, when both sides signed an armistice.
Written and recorded by

Jaksyn Peacock

for EnglishClub
Search for more Listen&Learn stories:
Subscribe to EnglishClub Podcasts

12 comments
Mohamad says:


I want to study English in Cambridge. Who can help me go there?

Bhaskar Chandra Mondal says:


Hi,guys
It is an excellent method to learn English. I do hope that a large number of students or learners will be benefited from this englishclub.
I wish you many years of joy and love.
Best of luck.

Mameri Ahmed says:


Thank you, and i join mr Mohamed khan's idea.

leonardo says:


i like talk about this theme.

vitoria takito says:


.

GLON says:


It's a very simple chronology easy to remember
so we improve our culture in working with you and improving our english expressions
Thank you

Mohammad Khan says:


very well design, useful and interesting as well. If it downloadable will be very better for offline use.

Lan says:


Oh ! Mentioning about World War I , it was so terrible when they was using some poisons make people nowadays have to suffer. That ridiculous war was push many people into orphans. Having peaceful of life today , which we need to thank for many soldiers guarding this country❤️

sapy says:


a good way to improve listiniung

EMEKA says:


World war III is inevitable.

Fiorella says:


Excellent!

JOSE RAMON SALVADOR DIAGO says:


Very interesting podcast