How Vaccines Work
Posted by: Jaksyn Peacock
Learn how vaccines help the body fight off disease.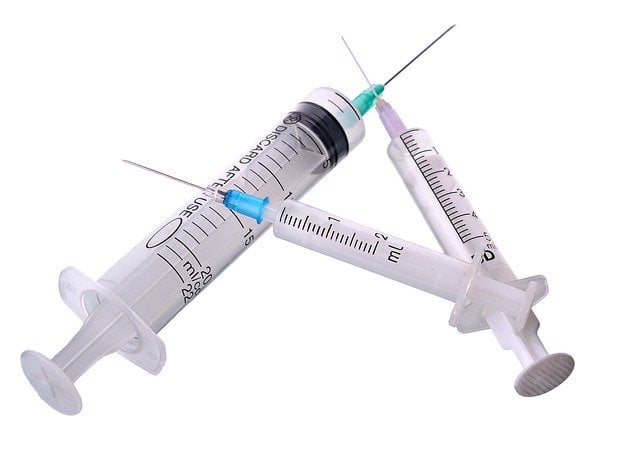 Pre-listening vocabulary
vaccine: a substance that helps people develop immunity to a virus
trigger: to cause something
immune system: the system that protects the body from disease
antibody: a protein made in the blood that fights infections
imitate: to simulate or resemble something
inactive: not infectious; causes no symptoms
inject: to use a syringe to put medicine in the body
Listening activity
Podcast: Play in new window | Download (Duration: 1:20 — 1.2MB)
Subscribe: Apple Podcasts | Google Podcasts | RSS | More
Gapfill exercise
Comprehension questions
1. Vaccines are effective because
Vaccines are effective because they trigger the body's immune response.
Most vaccines contain weak or inactive viruses.
3. The immune system responds to a vaccine by
The immune system responds to a vaccine by producing antibodies.
Discussion/essay questions
In some places, vaccines are a controversial subject. Some people are uncomfortable with putting unfamiliar substances into their bodies. Do you think these people are right to be concerned, or is disease prevention more important?
Transcript
Vaccines are some of the best methods for preventing disease. The reason vaccines are so effective is that they trigger the body's natural immune response to viruses. When a person becomes infected with a new disease, their body recognizes that the virus is unfamiliar. The immune system then works to fight off the virus by producing antibodies. After recovering from a sickness, your body will remember how to fight it off if you are ever infected again. This provides a temporary immunity to the virus that you were exposed to. A vaccine works by imitating a real infection. Most vaccines contain a weakened or inactive version of the virus they are meant to protect against. When this virus is injected into the body, the immune system believes it is harmful and attempts to fight it off. Because the immune system now recognizes this virus, it will remember how to produce antibodies if you are ever exposed to the real virus. This way, you can be protected from disease without being infected first.
Written and recorded by

Jaksyn Peacock

for EnglishClub
Search for more Listen&Learn stories:
Subscribe to EnglishClub Podcasts

69 comments
Endah Nina Kurniawati says:


I think the vaccine is really important for us now to decrease the COVID-19 virus. I think its better to prevent the spread of the virus since there's no medicine found to cure the COVID-19

ELLYS LASTIUR SITORUS says:


I think a good knowledge for us. Actually we're scary about the bad effect but the government had already thought about how through this pandemic into a normal condition, that's why the government suggest us to take the vaccine, as a good citizen has to follow it.

Enna says:


it's a good information for all. Everyone has right to get the vaccine or not. But prevent our family from the disease is more important.

Dyah Chandra says:


i think people have their right to speak up whether they want to vaccinate or not because everyone has their own condition.

Mardiana Trinirnawati says:


if you love yourself and your family, please do get the vaccine

Iriani Yuliar Antika says:


I think the vaccine is the best way to against covid-19. We can protect ourselves, our family, and the people around us from covid-19. I hope the world gets better and we can back to normall. Thanks

leea says:


I kinda of one of those who is vaccine hesitancy. Because I'm not sure that the vaccine with do its work. but then again, it depends on the human body immunity and all.

Lulus Istiningsih says:


I think we should not be afraid of getting vaccine because it will protect ourselves from corona virus. The government must did the research first before they inject it to us.

Damaris says:


Pandemic situation is not easy for everyone, so vaccine one of a particular thing we can do to break the spread of the viruses, lets hope that the world heal soon and we can back to normal life and be a better place. -finger cross

vivin suta yuliane says:


this is a good website that lets us know a lot of new vocabulary related to many topics. It also provides exercises to measure our vocabulary comprehension related to the topics discussed.

Tatik Sutinah says:


It's your choice and decision for having vaccinated or not, but since this is a contagious virus and you could put other people at risk, so please get vaccinated then… for you all other people

Novi Tasari says:


It's a great website. Now, I got a lot from this discussion. It's about vaccine. No matter people said about fake news about vaccine. I believe that vaccine is the best way to protect our body from virus, especially Corona virus. It will reduce the spread of the the disease.

tri pras says:


We need to analyze first why some people are uncomfortable with the vaccines. If they have a good reason, it will be okay to unvaccinated.

Maria Luki Susanti says:


First, I just follow the government and WHO instruction that people need to be vaccinated. Now, I know the benefits of vaccination. It helps the body's immunity increase and produces antibodies. It is great, I think.

Anna Maelani says:


We hope we will get the NORMAL CONDITION AS BEFORE

let's do the HEALTH PROTOCOL

and be HEALTH AND HAPPY

Fajar Fardyansyah says:


vaccine is very important to againts Covid 19 because, when 75% peoples of the world has got the vaccine, it creates global immunity throughout the world so that the covid 19 virus can be overcome and the future of the younger generation of this kind of virus is not dangerous

ika says:


I agree about the vaccination program from the government during this pandemic time. It is one ways that we can do as prevention. By doing this I think we protect our self and others.

NURIL IMAN says:


I agree with the vaccination of covid-19. It is one way to overcome the deases of Covid-19. Hopefully after getting vaccination, the herd immunity will be build and we live in the new normal like before pandemic of covid-19.

larasati says:


In my opinion, vaccination aims to make a person's immune system able to recognize and quickly fight viruses that cause infection. Although not 100% able to protect people from Corona virus infection, this vaccine can reduce the possibility of severe symptoms and complications due to COVID-19. In addition, the COVID-19 vaccination aims to encourage the formation of herd immunity or herd immunity. This is important because there are some people who cannot be vaccinated for certain reasons.

MULIADI,S.Pd says:


everyone has to get vaccine to get better live for better future. Vaccine doesn't kill you.

Nunuy wulan says:


Actually we got information from this web, great! But we hope the vaccine will not side effect to people. We hope better for whole the world..thank you

Eduardo says:


The vaccine is important for everyone. A syringe makes me feel very nervous, but thinking the importance of this, I made an exception. We learned that the vaccine contains weak or inactive viruses, and our immune system produce antibodies, so incase we get the COVI, we will be able to fight it off. I hope this terrible pandemic disease goes away soon, so we can go back to our normal lives. Lastly, I would like to know the side-effects of the vaccine, especially for those with asthma issues. Thank you. Great info and lots of vocab to learn from.

Bethlahem says:


This one's a great explanation so everyone can be persuade to take the vaccine as everyone thought it's harmful to have the vaccine. Thanks a lot

Johanna rodriguez says:


La primera pregunta no entendi

Carlos Gómez says:


that we should not self-medicate rather we must go to the doctor and so they will be sent the correct medications and if someone has covid it is better to do the vapors and drink those waters that help many because if they go to the hospital they get sick more than usual because There is conditioned air there and that is bad for people who are sick (I mean, they have covid).

ANDREA GONZALEZ BUSTAMANTE says:


Falle 1 una

Temitope says:


Esl is an amazing website. Thank you🙇

DAVID MARTIN SANCHEZ says:


In my view, nurses don't inject people unfamiliar substances because they inoculate an inactive or a weak version of the virus.

Information is the key for taking the right decision, but nowadays we have to be careful with fake news, so it's important to check the information you get: check the source and their interests, why they say that, is it true?, etc.

Fake news harm the whole society, so it's important to deactivate them and to spread true facts. In news it's also important to distinguish between facts and opinions.

With the information we know about vaccines and the information we've got, as far as I am concern, if you don't get vaccinated you're a fool who is risking your health and the others'.

Think of your relatives, friends, acquaintances, etc. and be wise, if you don't get the vaccination you won't be able to travel anywhere or you'll have trouble for doing it.

Shokouh says:


It is so useful to know about virus

Socorro says:


Thank you for the information, I have many vaccine, bat I din't know how it's working.

Monica Bermudez says:


Thank you for all this information, it is very valuable as it helps us understan more about this situation of Covid-19.

Katchleen says:


I like this website

tigist aragaw says:


thanks it's great!

Rahel says:


Thank you for the lesson.it is important thing to know about vaccine specially at this time.

Fiori says:


The lesning is very useful to improve language and how they work vaccine in our body.

Selemawit says:


That's great information thank you.

Jessica says:


Is good information

Daopakay Vue says:


This is a great listen and learn video.

Jessica moreno says:


thank you

Leonela Ramirez says:


Very informative.

Dhruva says:


Done

Hussein says:


Done.

Ting Wang says:


done

AIsKYuHaXRx says:


quUmGEkIFYijLy

Ahmad abdullah says:


finish

saif ghanim alketbi says:


great!
this website is absolutely nice

salim sultan says:


finish

nsikan says:


Hi there i totally agree with you. i think

nsikan says:


Let's hope it won't take long discover one against the Covid 19. thanks and regards,

nsikan says:


Let's hope it won't take long to discover one against

nsikan says:


injecting vaccine into the body could be uncomfortable for some but disease prevention is more important I guess.

Jhon ALEXANDER PERDOMO10-2 says:


I thik they have to worry that at this moment there is the covid and many are self- medicating so that they can give It to the Word health organización says to do nothing without permission

Xiomara Ospina Correa says:


i like (:

Krishna Shah says:


Completed mam

Vasunthra says:


completed mam

Heysha Zaveri says:


understandable

Avanthika says:


Test completed

adithya says:


i got all correct

vedha hiren daga says:


xxx

aimee says:


this is one of the worst websites i'v ever used.

Alessia says:


Done

Alessia says:


Done

Sahar Kamel says:


great website, really enjoyed.

Shirley says:


I sincerely hope so too.

felicia helice says:


great!
this website is absolutely nice

Hương Giang says:


This litening practice test is so good

Journey says:


Thank you for the wonderful lesson especially this time since the world hasn't yet invent the medicine nor vaccine.

Sang Phan says:


Hi there! I totally agree with you. I think this short audio-text is a hot subject amid coronavirus pandemic outbreak around the world. It helps people grasp how vaccines work to understand the great importance to invent one vaccine against this disease.
According to CNN updated May 1, 20, the novel coronavirus has infected more than 3,2 million people and killed at least 233 thousand around the world. So the vaccine to fight off this disease is currently indispensable to our world.
Injecting vaccine into the body could be uncomfortable for some, but disease prevention is more important, I guess.
Thank you.

Inmigrante Digital says:


Let's hope it won't take long to discover one against the Covid 19.
thanks and regards,