Listen&Learn: The Periodic Table
Jaksyn Peacock
Learn about the system scientists use to organize chemical elements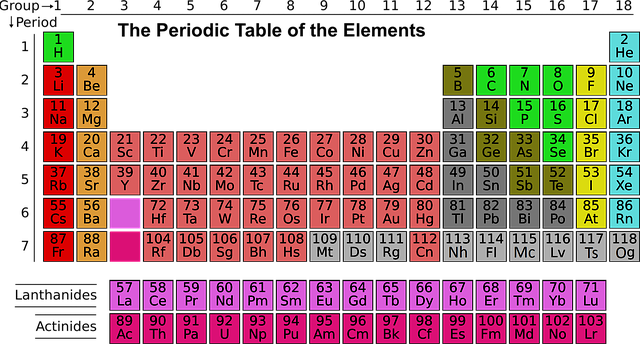 Pre-listening vocabulary
classify: to sort something into a group
element: a substance made up of one kind of atom
property: a trait or characteristic of something
outlier: something that doesn't follow an expected pattern
subatomic: smaller than an atom
orbit: to move in circles around something
nucleus: the centre of an atom
Listening activity
Podcast: Play in new window | Download (Duration: 1:28 — 1.3MB)
Subscribe: Apple Podcasts | Google Podcasts | RSS | More
Gapfill exercise
Comprehension questions
See answers below
An early model of the periodic table sorted elements by
a. atomic number
b. atomic weight
c. number of subatomic particles

The first subatomic particle to be discovered was
a. the electron
b. the proton
c. the neutron

A proton has
a. a positive charge
b. a negative charge
c. no charge
Discussion/essay questions
Even though scientists did not yet understand subatomic particles, the early model that put elements in order of atomic weight still naturally grouped similar atoms together. Why do you think this is? Do you know any other historical examples of humans finding patterns that they didn't understand?
Transcript
The periodic table is a system that scientists use to organize and classify chemical elements. Originally, many scientists tried to sort the elements by properties. One of the early models of the periodic table arranged elements by atomic weight, which naturally grouped elements with similar properties together. However, certain elements were outliers, and did not fit in their groups. In 1898, a scientist named J.J. Thomson discovered the electron, a subatomic particle with a negative charge. Later, in 1911, a scientist named Ernest Rutherford learned that electrons orbit a nucleus, which makes up most of the atom's mass. Inside the nucleus, there are protons, which have a positive charge. An atom has an equal number of electrons and protons. This number became known as an element's atomic number. Today, elements on the periodic table are arranged by atomic number, which gives a more accurate understanding of element properties.
Answers to comprehension questions
1b 2a 3a
Written and recorded by

Jaksyn Peacock

for EnglishClub
Search for more Listen&Learn stories:
Subscribe to EnglishClub Podcasts

3 comments
Cat says:


Ok

Raju says:


I wonder why the Rissian Chemist Dmitry Mendelev who created this was not mentioned in the text.

Foat says:


Gentlemen!
I inform you that the periodic table was built by the Russian chemist Dmitry Mendeleev in 1869. He also combined all the ideas into a periodic law in 1871. And Messrs. J.J. Thomson and Ernest Rutherford have only clarified some details and elements of this table.
Why don't you mention Mendeleev in your article? In your opinion, it turns out that the table was already there, and Messrs. J.J. Thomson and Ernest Rutherford made the main contribution to the development of this law.
I can understand and accept your apologies if this happened due to the incompetence or illiteracy of Mr. Jaksyn Peacock.
If this is not the case, then your article is Russophobic, politically biased. You are deliberately misleading the readers of your club.
The article is cowardly and disgusting.
I suggest you apologize to all members of your club and publish full information on this topic.