Listen&Learn: Quasars
Posted by: Jaksyn Peacock
Learn about the bright centres of young galaxies.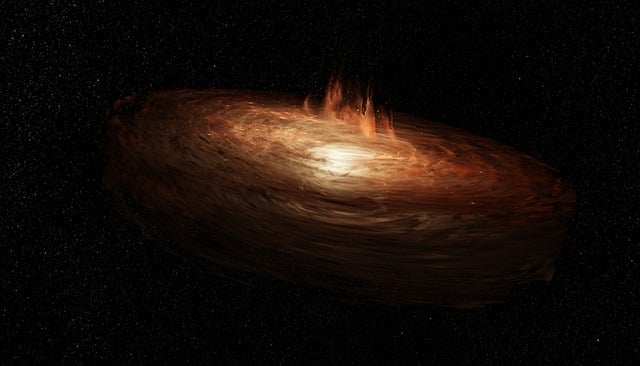 Pre-listening vocabulary
celestial: relating to space
emit: to give off energy
abbreviation: a shortened word
radio: a form of invisible waves of energy
nucleus: the centre of something
light year: the distance that light can travel in a year, about 9.46 trillion km
Listening activity
Podcast: Play in new window | Download (Duration: 1:23 — 1.3MB)
Subscribe: Apple Podcasts | Google Podcasts | RSS | More
Gapfill exercise
Comprehension questions
See answers below
A quasar is
a. a massive and luminous galaxy
b. a star that emits an unusual amount of radio waves
c. a bright galactic nucleus powered by a black hole

Scientists first discovered quasars in
a. 1913
b. 1931
c. 1961

Most quasars are
a. billions of light years away
b. close to the Milky Way Galaxy
c. almost as old as the universe
Discussion/essay questions
What do you think the purpose of studying space is? Why do humans want to understand the universe?
Transcript
A quasar is a celestial object that emits enough radiation to glow brighter than a galaxy. The energy that a quasar emits comes from a supermassive black hole at its centre. When scientists first observed quasars in 1961, they thought they were stars, or star-like objects. The name "quasar" is an abbreviation for "quasi-stellar radio source", because the first observed quasars looked like stars that emitted lots of radio waves. Scientists now know that quasars are the nuclei of young galaxies. Even though quasars are very bright, most of them are billions of light years away, which means that observing them can provide information about the state of the universe in the distant past. The oldest discovered quasar formed nearly 13 billion years ago, at the very beginning of the universe's life.
Answers to comprehension questions
1c 2c 3a
Written and recorded by

Jaksyn Peacock

for EnglishClub
Search for more Listen&Learn stories:
Subscribe to EnglishClub Podcasts

4 comments
Katia Lisboa says:


Very good learning !

Anish Kumar says:


Very Useful

Maricarmen Gutierrez novoa says:


It is an excellent practice and thus we know more vocabulary

Michelle Martinez says:


IT'S VERY GOOD PRACTICE