The Science of Hand Washing
Jaksyn Peacock
Posted by: Jaksyn Peacock
Learn how hand soap works against bacteria and viruses.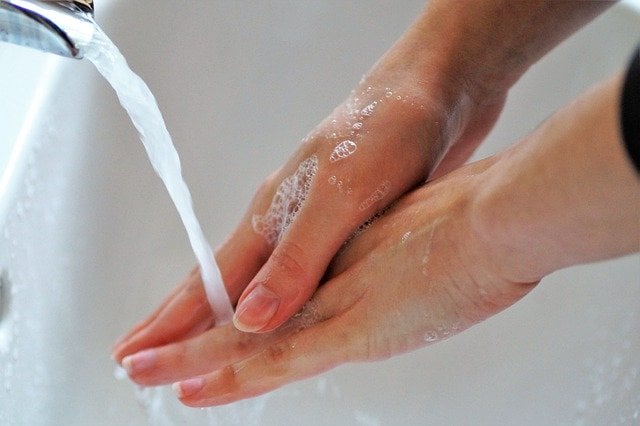 Pre-listening vocabulary
hygiene: practices used for keeping oneself clean
eliminate: to remove or destroy something
adhere: to stick or attach to something
friction: the resistance of objects rubbing against each other
transfer: to move an object from one place to another
professional: a person who works in a specific field
Listening activity
Podcast: Play in new window | Download (Duration: 1:26 — 1.3MB)
Subscribe: Apple Podcasts | Google Podcasts | RSS | More
Gapfill exercise
Comprehension questions
1. Rinsing with water does not eliminate viruses because
Rinsing with water does not eliminate viruses because water can't break a virus apart from the skin.
2. Drying hands is important because
Drying hands is important because wet hands spread bacteria more easily.
Hand sanitizer is less effective against viruses than water and soap.
Discussion/essay questions
Hand washing is one measure you can take to prevent infection from COVID-19. What other precautions are you taking to protect yourself?
Transcript
Washing hands is common practice for maintaining good hygiene and preventing disease. However, studies show that many people still don't wash their hands properly. Rinsing with water is not enough to eliminate viruses. This is because viruses can adhere to skin, and the friction caused by rubbing hands together is not always enough to remove them. The molecules in hand soap are able to break the virus away from the skin. These molecules can then kill the virus by breaking the bonds that hold it together. It is recommended that people wash their hands for over twenty seconds with soap and water. Drying hands is also important, because wet hands can transfer bacteria to surfaces more easily than dry hands. Some people use hand sanitizer instead of soap to prevent disease. While hand sanitizer can be effective against bacteria and viruses, medical professionals agree that it is not quite as effective as soap and water.
Written and recorded by

Jaksyn Peacock

for EnglishClub
Search for more Listen&Learn stories:
Subscribe to EnglishClub Podcasts

132 comments
T-cat says:


There is an empty space under the text, so I putted "brought to you by englishclub.com" but its not correct….
T-cat

DELORIS says:


I love to know more about CORONAVIRUS or COVID-19 because if we know more and tell each other the correct things , we can fight the virus so we all need to help each other to fight it

THANK YOU FOR READING MY COMMENT THANKS .

melonGhost says:


Thanks for a wary god texxt

JDUDE official says:


Hi This is good

Rasha Alsalkini says:


Thanks

nargis Jelali says:


thank you, it was very helpful.

JAIDEV SURA says:


it is very nice

Siham says:


Always wear a mask, don't shake hands stay safe.

Bety says:


Mr . Jaksynk Peacock, thanks a lot.
Your text in the English Language was very interesting for me and it helped to improve my knows of that subject.
God blessing you.

Bety says:


Mr . Jaksynk Peacock, thanks a lot.
Your text in the English Language was very interesting for me and it helped to improve my knows of that subject. God blessing you.

Bethlahem says:


Sometimes I forgot to wash my hands and use sanitizer instead but for me it is still more hygienic if we use water and soap.

sophia says:


good job

melody tang says:


In addition to hand washing, I also use alcohol to clean everything I used, and as soon as possible to take off my dirty clothes and go to wash my hair and body after going home.

Mohsini says:


thanks. it was interesting for me.

Daopakay Vue says:


This is a great listen and learn video.

Jessica moreno says:


thank you

Leonela Ramirez says:


this is very helpful, thank you

Claudia Regina López Aguilar says:


Se me dificultó lo primero de los verbos

Pooja sondhiya says:


It is good.

THIVYAASREE A/P MURUGAN says:


have simple questions

iman isyraf bin irwan says:


I slow understand sorry

MUHAMMAD HAIKAL BIN ABDUL RASHID says:


Sorry teacher,i dont understand for subject English

EVELYN IBETH COLINDRES CABRERA says:


taking care of yourself is the best way to prevent any disease

Junior René maquín Valenzuela says:


Sorry for the delay, my internet was slow

Junior René maquín Valenzuela says:


Sorry for the delay, my internet was slow

Almurr Alzahmi says:


thank you

mansour mohammed says:


thanks

Jorge Nunes says:


I'm very happy, because this text at same time teaching English and coronavirus prevention. This is serious actually.

nsikan says:


washing hands common practice for maintaining good hygiene

nsikan says:


wash your hand

nsikan says:


english

samuel López Arrieta says:


Hello, another action that help us to prevent the virus is the social isolation and also, wearing disposable face masks.

see you soon.

Samuel López Arrieta

Lara Martinez says:


One of the measures I take to avoid COVID-19 is to clean my shoes an take off my clothes whenever I come into my house. I also mop the floor with bleach and water.

Karen Alarcon says:


Other precautions i'm taking to protect myself are trying to clean everything with alcohol and wearing my face mask when i need to go outside to buy something, of course i can't forget to wash my shoes and leave them on the floor.

Marcela Rivero says:


The truth is a very useful information, many times it washes its hands and time is not respected, always in a hurry. What measures everything? I respect the distancing, cleaning at home, sanitizing the products purchased before storage, Chinstraps, disinfecting towels, ventilation, frequent hand washing, etc.

Noelia Maribel gatica says:


Another precaution that I took is when I return to buy that I spray the soles of my shoes with alcohol, I also clean the products I bought with alcohol and constantly clean my house. Another thing I also do is wash my hands with antibacterial soap every five minutes.

ALEJANDRO DELGADO says:


Hand washing has always been very important, always using soap and water, or disinfectant, since hands are where the greatest number of bacteria and viruses tend to stay with the mouth, so you always have to have very good hygiene and use the right soaps and disinfectants.

Venus says:


Other precautionary measures to protect myself and the citizens is to stay at home, since in this way we avoid the spread of the virus, also, in casa it is necessary to leave, we should wear gloves and a mask, since we don't know if the person who touched an object before was infected or asympthomatic

Neyeska says:


Some precautions I am taking is to constantly use my antibacterial mask and gel, not to have close contact with people I don't know, and to wash my hands with soap and water as many times as possible

Lidiane Maria Dos Santos says:


Lavar sempre as mãos e sempre usar álcool é não esquecer de usar máscara quando sair

Zuzanna says:


Other precautions I'm taking to protect myself are trying to stay home and not going into crowded places where a lot of people come. Also, I use an antibacterial hand gel and a face mask that I take with me whenever I go out.

Guillem Planiol says:


Deures

Gustavo Paulo Moura Santos says:


8 ano B

selena says:


As other precaution I am taking to protect myself is not leave my house often, but if I do it, I always take with me my face mask.

Grace M Rivera says:


I like that information because it uses proper words. And now, I know more about COVID-19 prevention.

Karen Dahina Montoya Posso says:


Excelente

Ana Maria Giraldo Medina says:


.

maria rodrigo alvarez says:


this for me is a little dificult

Daniela says:


los deberes

Jorge Aguilar says:


Very interesting.

Marlyn says:


Excellent information about the coronavirus.

mahdi says:


muy bien

Federico says:


F

Abdullahi says:


Very useful site

Breisy Franllely Arias Parra says:


Isolation is very important to prevent the virus.

Daniela Botero says:


Me pareció una actividad muy interesante, ya qué aprendí cosas nuevas sobre el covid-19, y mejores maneras de prevenirlo

jizet manuela castaño says:


excelente

... says:


Es necesario comentar?
O por qué todos comentan

Karen Nathalia Perez Forero 9 - A says:


Excelente ejercicio

Stefania Bermudez Pulgarin says:


Excelente

S M Sajjad says:


It's helpful

Laura zuluaga says:


thanks, it's super good

Julián Alejandro castaño Aristizabal says:


Wath

Maria Camila Serna Alzate says:


Me pareció interesante,aprendí un poco mas, aunque solo haya respondido una sola buena me aprecio divertido

muaz mohamed says:


Helpful

Adrian Savin says:


Thanks for the class!!

Andrea says:


listening

Kashindi yafasa says:


I learned about how to protect myself from this disease the first things is that wash your hands often a day while you finish eating, from bathroom and after i fished the things you are doing wash your hand also stay st home save lives.

BobbyDex says:


gosuslugi

Jasaman says:


Helpful🙏

Noelia Pozos Ruiz says:


This activity seems too interesting to me, it is also very important to be informed so that when we are informed we are informed and we know what to do

Lore Huesca says:


I really liked this activity.
I think it is important to inform us about what is happening whit COVID-19

Filiberto Diaz Romero says:


Aqui esta mi evidencia

harry,zhang says:


,

Alejandro Moreno López says:


Very good

Youssef Mohab says:


kindly check my answers

Me says:


Contact with others strictly and keep social distance. Wash our hands properly, over 20 seconds in water and soap. Hand sanitizer is not as effective as water and soap. Wash our hands often especially after touching by rick factors.Thanks!

Dani says:


You should continue doing the useful Listen and Learn.

gloria says:


Excelent methodology ,because is integral. Doing learning.

yeli says:


Coronavirus, or Covid 19, is a virus that affects the capabilities of the lower respiratory tract. It spread around the world until it became a pandemic. It has sadly claimed countless deaths worldwide. I stay at home, I only go out to do strictly necessary things, practicing the necessary measures, such as social distancing, wearing gloves and masks. When I get home I leave shoes on the door and I spray them with water and alcohol, I clean myself and I put my clothes to wash immediately.

Abdulkarim says:


Wow! Thanks a lot for these may Allaah protect us.

Josefina Perduca says:


thank's for the information

FABIO RICARDO JUSTO says:


Perfect site! Very grateful for the material and the updated information! We all need to know how to talk about Covid-19!
Thank you so much!

Natalya Chekmareva says:


Thank you for such clear material about difficult topic

leonardo says:


from chile.
excelent for learn english.

Valentín Biasola says:


It's the firts time using this forum and i gotta say that it's pretty useful.

Camila Straguadagno says:


It is the first time i have used this forum.I think it is so usuful and another way to practise English

Reza says:


Tank you.Itis very helpful.

Noa leksour says:


No
2ndeASSP2

Martha says:


effective lesson on English which also helps teaching the prevention of corona virus

Mesinee Yingsamer says:


I liked this exercise. It is about washing hands which is common now.

Mesinee Yingsamer says:


Mesinee

Linh Bui says:


It is so great. Thank you so much for the interesting website and learning materials.

meave says:


thanks a lot for this lession. i think everyone should get to know clearly about this virus because it is a part of human history, and we are the people who living in this period. for me, i'm very proud of my country because the govement is controlling it and all of civilian are uniting to fight with it.

Zübeyde ATAŞ says:


In my opinion , I liked this exercise. It is about washing hands which is common now.Because there is a coronavirus all over the world. If we wash our hands carefully , we can prevent from virus. This practice is appropriate for prevention.

Bingyou says:


It is easy to understand,While if you have to go to outside,I think it's the best way to keep away from virus,as you know that the safest way is stay at home.Thanks.

Kalidja says:


Thanks you for this lesson

Siti Fatimah Shofarida says:


This article about hand washing and the previous one, about coronavirus, helps me a lot in delivering materials for my students while they are learning at home. Keep it up, englishclub.com. #StayatHome #StayHealthy

Nolg22 says:


Your text is very interesting and useful thank you
The coronavirus has no legs no arms no mind and yet it can move from one person to another except if we keep away from others
Good health everybody
best wishies for all of you who are sick
A wink from France

Nude Gem Twinkle says:


It is really helpful, I can learn everything about prevention and wash my hands regularly properly

Maggie L says:


Very helpfully😄

Lin,Jianfang (Jen) says:


I have now learned that washing your hand is good for you because it can kill many germs.

sunnynguyen says:


yay

Cristina Rebelo says:


very good to learn new vocabulary and also at the same time highlights the importance of hand washing against the virus

fendi says:


i find it
helpful

Said Louey Said Mohamed Achmed says:


This is really helpful. I liked it. I'd like to have more lessons from you. Thank you!

Bao An says:


That's useful for me, and for everyone.

Nurcan says:


Be careful and do everything you should against coronovirus.

dorry D says:


i learn lots of vocabulary from this.Thanks u so much

Flora Nguyen says:


Other precautions to protect ourself is to wear masks, check our temperature twice a day, limit more than 10-people gatherings, and stay at home.

Lê Minh Phương says:


What a useful article for period of Covid-19.

Andri Laak says:


I wash my hands often

Mohamed Mudather says:


Many Thanks

Khuê says:


this is very helpful, thank you so much

Phathutshedzo says:


Washing your hands for 20 seconds is very effective more than hand sanitizer and during this time of Covid-19 you have to always wash your hands after you have been outside or if you were playing with a pet and maintain social distancing( 1 or 2 meters) from friends and remember no hugging, kissing or touching also avoid touching your face and nose with dirty hands 😉 be safe……

Hạnh says:


I am a flight attendant and i am leaving with no salary for 2 months. I am being at home, washing my hands many times per day, doing exercises and eat healthyly

Teresita Toquero says:


informative

Behrooz says:


Washing hands for 20 seconds and 20 times a day is an effective way to fight against Corona virus.

Hải Vân Xinh Đẹp says:


wash your hands to protect yourself

Tumelo Hlohlolo says:


Wash your hands

areej says:


thank you , this was really helpful

Trần Minh Tâm says:


Hi, englishclub! I'm from Vietnam and i really like studying at englishclub. The lesson about the science of hand washing is very useful for me! I hope you guys healthy and protect virus corona and bring amazing lessons to us! Thank you so much:>
Let's listen to this song( by Vietnamese) but very fun:>
https://www.youtube.com/watch?v=BtulL3oArQw

Cheikh Amadou Tidiane Niang says:


This is interesting and important activities. Washing our hand is a good methods.

Lindsey says:


I am avoiding public places, keep a distance of 1.5 – 2 meters from people, disinfecting hard surfaces and my hands with 70% alcohol and also using tissue paper when coughing. I try to cough and sneeze in my hands instead I cough and sneeze into my elbow.

Fernanda Fareli says:


The social isolation is very important to avoid the contagio. Using alcoohol in hands and to wash the clothes when arrive at home.

Paulo Penchiná says:


preve.ntion is the best way. wash our hands always after anything that we have done with them . another important point is maintain a minimum distance of 01 meters form all people

Khai says:


Let's go to wash your hand everyday.

Jose Salvador Diago says:


By following doctors and authorities' instructions we shall survive this crisis sooner than if we don't. So, let's do it. Wash our hands and stay at home.

Zainab almahdawi says:


Also stay at home, keep social distances.

Jorge says:


Prevention Is always the best way yo avoid diseasses, and this text confirms It. Great for you!

Francisco Lacerda says:


Very good. Até the same time teaching English and coronavirus prevention.

Nancy Burkett says:


This is the first time using this forum.