LISTEN & LEARN in Easy English
The Science of Hand Washing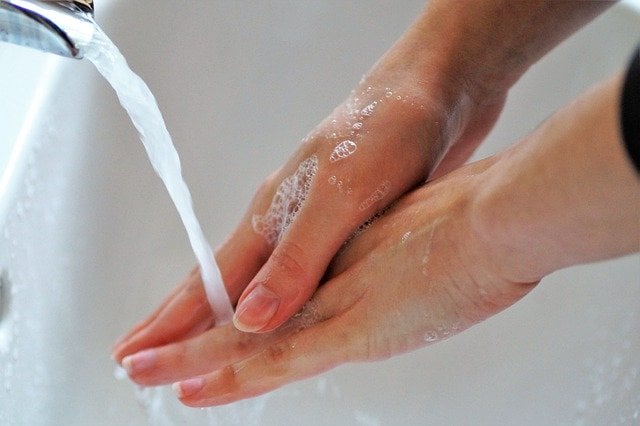 Pre-listening vocabulary
hygiene: practices used for keeping oneself clean
eliminate: to remove or destroy something
adhere: to stick or attach to something
friction: the resistance of objects rubbing against each other
transfer: to move an object from one place to another
professional: a person who works in a specific field
Listening activity
Podcast: Play in new window | Download
Subscribe: Android | Google Podcasts | RSS
Gapfill exercise
Comprehension questions
1. Rinsing with water does not eliminate viruses because
Rinsing with water does not eliminate viruses because water can't break a virus apart from the skin.
2. Drying hands is important because
Drying hands is important because wet hands spread bacteria more easily.
Hand sanitizer is less effective against viruses than water and soap.
Discussion/essay questions
Hand washing is one measure you can take to prevent infection from COVID-19. What other precautions are you taking to protect yourself?
Transcript
Washing hands is common practice for maintaining good hygiene and preventing disease. However, studies show that many people still don't wash their hands properly. Rinsing with water is not enough to eliminate viruses. This is because viruses can adhere to skin, and the friction caused by rubbing hands together is not always enough to remove them. The molecules in hand soap are able to break the virus away from the skin. These molecules can then kill the virus by breaking the bonds that hold it together. It is recommended that people wash their hands for over twenty seconds with soap and water. Drying hands is also important, because wet hands can transfer bacteria to surfaces more easily than dry hands. Some people use hand sanitizer instead of soap to prevent disease. While hand sanitizer can be effective against bacteria and viruses, medical professionals agree that it is not quite as effective as soap and water.
Written and recorded by

Jaksyn Peacock

for EnglishClub
Tags: bacteria | coronavirus | covid-19 | hand sanitizer | hand-washing | pandemic | soap
Subscribe to EnglishClub Podcasts

41 comments
Home Plix says:


Hi buddy,
I just read your blog. Very informative post about hand washing. Great work, thanks for sharing your amazing blog.

Linh Bui says:


It is so great. Thank you so much for the interesting website and learning materials.

meave says:


thanks a lot for this lession. i think everyone should get to know clearly about this virus because it is a part of human history, and we are the people who living in this period. for me, i'm very proud of my country because the govement is controlling it and all of civilian are uniting to fight with it.

Zübeyde ATAŞ says:


In my opinion , I liked this exercise. It is about washing hands which is common now.Because there is a coronavirus all over the world. If we wash our hands carefully , we can prevent from virus. This practice is appropriate for prevention.

Bingyou says:


It is easy to understand,While if you have to go to outside,I think it's the best way to keep away from virus,as you know that the safest way is stay at home.Thanks.

Kalidja says:


Thanks you for this lesson

Siti Fatimah Shofarida says:


This article about hand washing and the previous one, about coronavirus, helps me a lot in delivering materials for my students while they are learning at home. Keep it up, englishclub.com. #StayatHome #StayHealthy

Nolg22 says:


Your text is very interesting and useful thank you
The coronavirus has no legs no arms no mind and yet it can move from one person to another except if we keep away from others
Good health everybody
best wishies for all of you who are sick
A wink from France

Nude Gem Twinkle says:


It is really helpful, I can learn everything about prevention and wash my hands regularly properly

Maggie L says:


Very helpfully😄

Lin,Jianfang (Jen) says:


I have now learned that washing your hand is good for you because it can kill many germs.

sunnynguyen says:


yay

Cristina Rebelo says:


very good to learn new vocabulary and also at the same time highlights the importance of hand washing against the virus

fendi says:


i find it
helpful

Said Louey Said Mohamed Achmed says:


This is really helpful. I liked it. I'd like to have more lessons from you. Thank you!

Bao An says:


That's useful for me, and for everyone.

Nurcan says:


Be careful and do everything you should against coronovirus.

dorry D says:


i learn lots of vocabulary from this.Thanks u so much

Flora Nguyen says:


Other precautions to protect ourself is to wear masks, check our temperature twice a day, limit more than 10-people gatherings, and stay at home.

Lê Minh Phương says:


What a useful article for period of Covid-19.

Andri Laak says:


I wash my hands often

Mohamed Mudather says:


Many Thanks

Khuê says:


this is very helpful, thank you so much

Phathutshedzo says:


Washing your hands for 20 seconds is very effective more than hand sanitizer and during this time of Covid-19 you have to always wash your hands after you have been outside or if you were playing with a pet and maintain social distancing( 1 or 2 meters) from friends and remember no hugging, kissing or touching also avoid touching your face and nose with dirty hands 😉 be safe……

Hạnh says:


I am a flight attendant and i am leaving with no salary for 2 months. I am being at home, washing my hands many times per day, doing exercises and eat healthyly

Teresita Toquero says:


informative

Behrooz says:


Washing hands for 20 seconds and 20 times a day is an effective way to fight against Corona virus.

Hải Vân Xinh Đẹp says:


wash your hands to protect yourself

Tumelo Hlohlolo says:


Wash your hands

areej says:


thank you , this was really helpful

Trần Minh Tâm says:


Hi, englishclub! I'm from Vietnam and i really like studying at englishclub. The lesson about the science of hand washing is very useful for me! I hope you guys healthy and protect virus corona and bring amazing lessons to us! Thank you so much:>
Let's listen to this song( by Vietnamese) but very fun:>
https://www.youtube.com/watch?v=BtulL3oArQw

Cheikh Amadou Tidiane Niang says:


This is interesting and important activities. Washing our hand is a good methods.

Lindsey says:


I am avoiding public places, keep a distance of 1.5 – 2 meters from people, disinfecting hard surfaces and my hands with 70% alcohol and also using tissue paper when coughing. I try to cough and sneeze in my hands instead I cough and sneeze into my elbow.

Fernanda Fareli says:


The social isolation is very important to avoid the contagio. Using alcoohol in hands and to wash the clothes when arrive at home.

Paulo Penchiná says:


preve.ntion is the best way. wash our hands always after anything that we have done with them . another important point is maintain a minimum distance of 01 meters form all people

Khai says:


Let's go to wash your hand everyday.

Jose Salvador Diago says:


By following doctors and authorities' instructions we shall survive this crisis sooner than if we don't. So, let's do it. Wash our hands and stay at home.

Zainab almahdawi says:


Also stay at home, keep social distances.

Jorge says:


Prevention Is always the best way yo avoid diseasses, and this text confirms It. Great for you!

Francisco Lacerda says:


Very good. Até the same time teaching English and coronavirus prevention.

Nancy Burkett says:


This is the first time using this forum.