LISTEN & LEARN in Easy English
The Smartest Animals in the Sea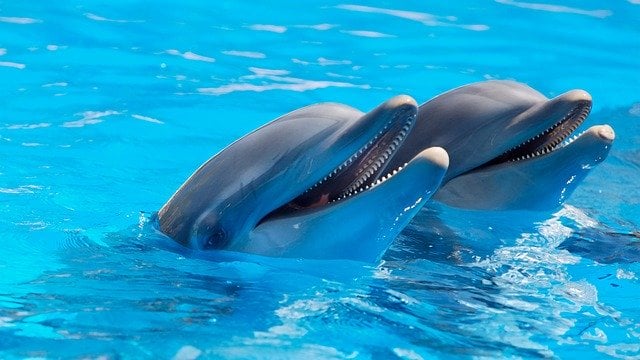 Pre-listening vocabulary
creature: a living animal, insect, or person
species: a type of animal or group of similar animals
self-awareness: knowing and understanding one's own identity
associated: linked, connected
communicate: to share information by talking or through body language
Listening activity
Podcast: Play in new window | Download
Subscribe: Android | Google Podcasts | RSS
Gapfill exercise
Comprehension questions
Dolphins' brains are large compared to most animals' brains.
2. We can tell that dolphins are self-aware because
We can tell that dolphins are self-aware because they can recognize themselves in the mirror.
3. Dolphins' "names" are called
Dolphins' "names" are called signature whistles.
Discussion/essay questions
Dolphins are sometimes kept in aquariums or zoos and taught tricks for human entertainment. This is a controversial topic because many people believe that dolphins and other animals belong in the wild. How do you feel about this?
Transcript
Dolphins are adorable, friendly, and playful creatures. They're also some of the most intelligent animals in the world. They have very large brains compared to most animals. The dolphin is also one member of a small group of species that can recognize their reflections in a mirror. This shows that dolphins have self-awareness, which is a trait associated with intelligence. Dolphins also communicate with each other using whistles. They seem to use this type of communication to solve problems, which might mean that they have their own language. Dolphins even have individual names. Every dolphin has a "signature whistle" that it can use to introduce itself. Humans are still trying to understand dolphins, but if they really do have their own language, we may be able to communicate with them one day.
Written and recorded by

Jaksyn Peacock

for EnglishClub
Tags: animals | communication | dolphins | intelligence | ocean | sea animals | sea creatures | signature whistle
Subscribe to EnglishClub Podcasts

9 comments
Mahendra says:


It's a outstanding
I like this
Thanks for sharing this activities
Plzzz keep it up
Again a grateful thank you
😊😊🙏🙏

Aliza shaikh says:


Its good enough…..

Abdi Mohamed says:


I am very happy to joint this community , I am learning alot

Editor says:


@Elena
@Vera
Many thanks for your feedback and alerting us about the audio. The issue is fixed now and you should be able to hear 🎧 the recording 🙂

Mark says:


Good excercise, informative and imaginative – enjoyable.

Osama says:


very useful thanks

Shaila says:


I`m very happy to be parts of this group because expand my knowledge in English speaking and writing I'm so proud be one of englishclub

Thx so much

Vera Costa says:


Thank you for sharing these activities… unfortunately the recording is missing. Could you please include it again? Thanks!!

Elena Katharina says:


Hi there, sorry – but I am missing the recording.