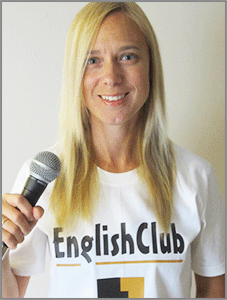 Listen to News with Tara Benwell - Instructions:
1. Preview the vocabulary and read the gapfill text.
2. Play the news report and try to fill in the blanks.
3. Answer the comprehension questions by writing full sentences.
4. Use the discussion question to write an essay or discuss the story with other students.
5. Click "show Answers" to see the full text.
6. Pretend to be a news anchor by reading each story out loud.
dateline: 10 January 2011
US Congresswoman Shot in the Head
Pre-Listening Vocabulary
open fire: shoot bullets into an area rapidly
constituent: a person who supports a government party or leader
critical condition: a serious medical state in which a hospitalized patient is at a high risk of dying
federal: national; related to the government
suspend: to remove membership or admission rights
US Congresswoman Shot in the Head
Comprehension Questions
Who is Gabrielle Giffords?
Where did the shooting take place?
Why was a book mentioned in the report?
Discussion Question: Many people on the scene jumped on the gunman who was shooting at close range. A middle-aged woman tried to stop him from reloading his gun. How do you think you would react in a situation like this?
Written by Tara Benwell for EnglishClub
Tara Benwell is a Canadian freelance writer and editor who specializes in materials and articles for the ELT industry.