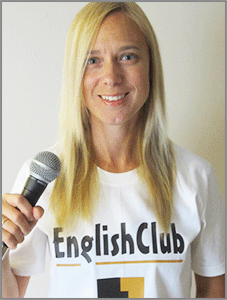 Instructions:
Preview the vocabulary and read the gapfill text.
Play the news report and try to fill in the blanks.
Answer the comprehension questions by writing full sentences.
Use the discussion question to write an essay or discuss the story with other students.
Click "show Answers" to see the full text.
Pretend to be a news anchor by reading each story out loud.
Japan Wins Women's World Cup
dateline: 19 July 2011
Pre-Listening Vocabulary
victory: win
penalty kick shootout: a method for determining a winner after a tie; players take shots on the goalie
opponent: the team or player on the other side
devastating: bringing sadness and suffering
sentimental: related to the feelings of tenderness and/or pity
Japan Wins Women's World Cup
Comprehension Questions
Where did the football competition take place?
Why does the report mention a Japanese flower?
Who was quoted in the report?
Discussion Question: Sources say the Japanese coach showed his team a slideshow of images from the earthquake to motivate his players to win. Do you agree with this tactic? Do you think it helped them win?
Written by Tara Benwell for EnglishClub
Tara Benwell is a Canadian freelance writer and editor who specializes in materials and articles for the ELT industry.