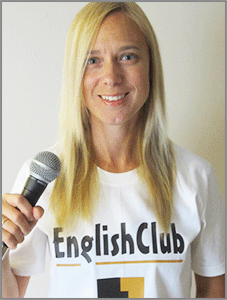 Instructions:
Preview the vocabulary and read the gapfill text.
Play the news report and try to fill in the blanks.
Answer the comprehension questions by writing full sentences.
Use the discussion question to write an essay or discuss the story with other students.
Click "show Answers" to see the full text.
Pretend to be a news anchor by reading each story out loud.
Michael Phelps Becomes Most Decorated Olympian
dateline: 07 August 2012
Pre-Listening Vocabulary
decorated: having received many awards (medals or ribbons)
anchor: the strongest member of a team (or the last to go)
impressive: causes people to be amazed
lead: a position ahead of the others in a race
committed: focused on achieving a goal
Michael Phelps Becomes Most Decorated Olympian
Comprehension Questions
Who is Larisa Latynina?
When did Phelps break the record?
How did Phelps respond to criticism at the 2012 Games?
Discussion Question: Some people say Phelps' record makes him the greatest Olympian of all time. Others disagree with this title because many athletes only have one event to compete in and can't get as many medals as swimmers or gymnasts. What do you think?
Written by Tara Benwell for EnglishClub
Tara Benwell is a Canadian freelance writer and editor who specializes in materials and articles for the ELT industry.
Subscribe to EnglishClub Podcasts

Please let us know your thoughts in the comments section below