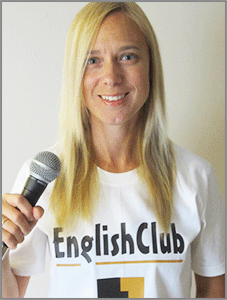 Instructions:
Preview the vocabulary and read the gapfill text.
Play the news report and try to fill in the blanks.
Answer the comprehension questions by writing full sentences.
Use the discussion question to write an essay or discuss the story with other students.
Click "show Answers" to see the full text.
Pretend to be a news anchor by reading each story out loud.
Sharks Force Spring Break Beach Closures
dateline: 12 March 2013
Pre-Listening Vocabulary
migrate: to move from one region to another
flock: to go somewhere in great numbers
spring break: a week when students have a vacation from school
rare: uncommon
fatality: death
Sharks Force Spring Break Beach Closures
Comprehension Questions
Why are beaches being closed in Florida?
Why is the timing of this year's migration inconvenient for humans?
Why does the report mention surfers?
Discussion Question: "Humans are more dangerous to sharks than sharks are to humans." Do you agree with this statement? Why or why not?
Written by Tara Benwell for EnglishClub
Tara Benwell is a Canadian freelance writer and editor who specializes in materials and articles for the ELT industry.
Subscribe to EnglishClub Podcasts

Please let us know your thoughts in the comments section below