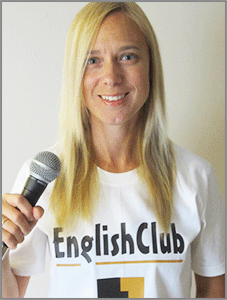 Instructions:
Preview the vocabulary and read the gapfill text.
Play the news report and try to fill in the blanks.
Answer the comprehension questions by writing full sentences.
Use the discussion question to write an essay or discuss the story with other students.
Click "show Answers" to see the full text.
Pretend to be a news anchor by reading each story out loud.
Woman Completes Cuba To Florida Swim
dateline: 03 September 2013
Pre-Listening Vocabulary
crew: a group of people working towards a common goal
clear away: to remove everything from a path or surface
jellyfish: a transparent aquatic creature that stings
fatigue: tiredness
endurance: ability to continue doing something for a long period of time
Woman Completes Cuba To Florida Swim

Comprehension Questions
How long did it take for the swimmer to reach Key West?
What was the role of Nyad's support team?
What was the swimmer's purpose of making a fifth attempt?
Discussion Question: Diana Nyad wanted to prove that people can fulfil their dreams at any age. Are you the type of person who makes several attempts to achieve something? Where do you get your motivation to achieve your own dreams?
Written by Tara Benwell for EnglishClub
Tara Benwell is a Canadian freelance writer and editor who specializes in materials and articles for the ELT industry.
Subscribe to EnglishClub Podcasts

Please let us know your thoughts in the comments section below