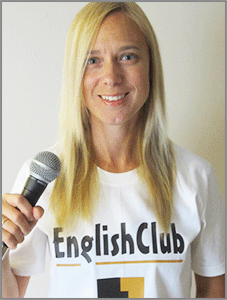 Instructions:
Preview the vocabulary and read the gapfill text.
Play the news report and try to fill in the blanks.
Answer the comprehension questions by writing full sentences.
Use the discussion question to write an essay or discuss the story with other students.
Click "show Answers" to see the full text.
Pretend to be a news anchor by reading each story out loud.
Domestic Violence Policy Coming To England And Wales
dateline: 26 November 2013
Pre-Listening Vocabulary
policy: an adopted principle or course of action
take effect: to become effective
domestic violence: abuse of one's spouse or partner
disclosure: the release or uncovering of something
pilot: to do an experimental test
Domestic Violence Policy Coming To England And Wales

Comprehension Questions
Why was this policy named after Clare Wood?
What will women in England and Wales be able to do next year?
What additional service will police agencies provide if a history of domestic abuse is disclosed to someone?
Discussion Question: Do you think that women should have the right to check the police records of their romantic partners? Why or why not?
Written by Tara Benwell for EnglishClub
Tara Benwell is a Canadian freelance writer and editor who specializes in materials and articles for the ELT industry.
Subscribe to EnglishClub Podcasts

Please let us know your thoughts in the comments section below