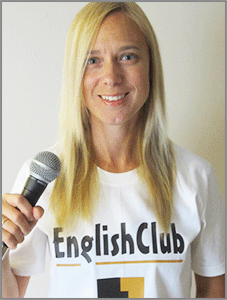 Instructions:
Preview the vocabulary and read the gapfill text.
Play the news report and try to fill in the blanks.
Answer the comprehension questions by writing full sentences.
Use the discussion question to write an essay or discuss the story with other students.
Click "show Answers" to see the full text.
Pretend to be a news anchor by reading each story out loud.
1,600 Pandas Arrive At Hong Kong Airport
dateline: 10 June 2014
Pre-Listening Vocabulary
paper mache: an art object formed with paper strips and glue
raise awareness: to make more people aware of an issue or problem
dwindle: to become smaller in numbers
logo: a visual representation of a brand, business, or organization
conservation: the protection of nature and wildlife
1,600 Pandas Arrive At Hong Kong Airport

Written by Tara Benwell for EnglishClub
Tara Benwell is a Canadian freelance writer and editor who specializes in materials and articles for the ELT industry.
Subscribe to EnglishClub Podcasts

Please let us know your thoughts in the comments section below