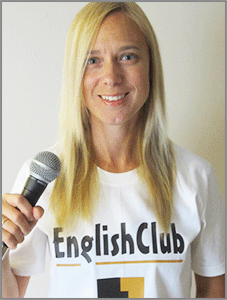 Instructions:
Preview the vocabulary and read the gapfill text.
Play the news report and try to fill in the blanks.
Answer the comprehension questions by writing full sentences.
Use the discussion question to write an essay or discuss the story with other students.
Click "show Answers" to see the full text.
Pretend to be a news anchor by reading each story out loud.
Malaysia Airlines Plane Shot Down
dateline: 22 July 2014
Pre-Listening Vocabulary
surface-air missile: a weapon launched from the ground to bring down an aircraft or other missile
separatist: a member of a group that wants to break away from its own country
catastrophe: an extremely tragic event
Written by Tara Benwell for EnglishClub
Tara Benwell is a Canadian freelance writer and editor who specializes in materials and articles for the ELT industry.
Subscribe to EnglishClub Podcasts

Please let us know your thoughts in the comments section below