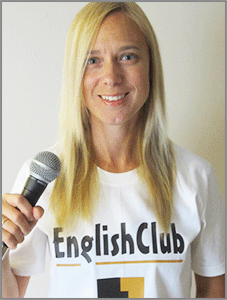 Instructions:
Preview the vocabulary and read the gapfill text.
Play the news report and try to fill in the blanks.
Answer the comprehension questions by writing full sentences.
Use the discussion question to write an essay or discuss the story with other students.
Click "show Answers" to see the full text.
Pretend to be a news anchor by reading each story out loud.
New Star Wars Trailer Released
dateline: 02 December 2014
Pre-Listening Vocabulary
trailer: a film preview; used for advertising before the release of a film
reunite: bring together again
footage: a length of video
prequel: the story that comes before
Stormtrooper: a Star Wars soldier
droid: a science fiction robot in Star Wars
trilogy: a three-part story
New Star Wars Trailer Released
Comprehension Questions
What is the title of the upcoming Star Wars film?
Who is JJ Abrams?
How has George Lucas's role changed?
Discussion Questions: Do you think this film will be worth the wait? Have you ever found it difficult to wait for a sequel to come out (in film or print)? Did it live up to your expectations?
Written by Tara Benwell for EnglishClub
Tara Benwell is a Canadian freelance writer and editor who specializes in materials and articles for the ELT industry.
Subscribe to EnglishClub Podcasts

Please let us know your thoughts in the comments section below