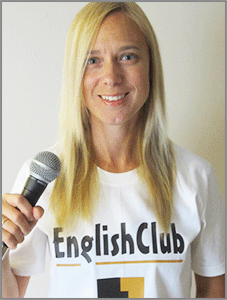 Instructions:
Preview the vocabulary and read the gapfill text.
Play the news report and try to fill in the blanks.
Answer the comprehension questions by writing full sentences.
Use the discussion question to write an essay or discuss the story with other students.
Click "show Answers" to see the full text.
Pretend to be a news anchor by reading each story out loud.
49 Killed in Florida Mass Shooting
dateline: 15 June 2016
Pre-Listening Vocabulary
gay: homosexual
pledge allegiance: to express one's support of an organization, cause, or country
ISIS: Islamic State in Iraq and Syria; a terrorist group also known as ISIL
standoff: an unresolved conflict between two sides
armoured: equipped with weapons
49 Killed in Florida Mass Shooting
Comprehension Questions
Who was Omar Mateen?
What did the gunman do during the attack?
How did the standoff end?
Discussion Questions: Why has this massacre been described as both an "act of terror" and a "hate crime"?
Written by Tara Benwell for EnglishClub
Tara Benwell is a Canadian freelance writer and editor who specializes in materials and articles for the ELT industry.
Subscribe to EnglishClub Podcasts

5 Comments on "49 Killed in Florida Mass Shooting"
Please let us know your thoughts in the comments section below