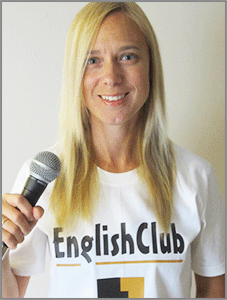 Instructions:
Preview the vocabulary and read the gapfill text.
Play the news report and try to fill in the blanks.
Answer the comprehension questions by writing full sentences.
Use the discussion question to write an essay or discuss the story with other students.
Click "show Answers" to see the full text.
Pretend to be a news anchor by reading each story out loud.
Boy Falls into Cincinnati Gorilla Enclosure
dateline: 01 June 2016
Pre-Listening Vocabulary
enclosure: an area that is closed off from others
frantically: without control of one's emotions
moat: a narrow barrier of water
tranquilize: to administer a drug that puts an animal to sleep temporarily
agitated: showing signs of stress and nervousness
Boy Falls Into Cincinnati Gorilla Enclosure
Comprehension Questions
What is the report mainly about?
What did the mother do?
Why wasn't a tranquilizer used?
Discussion Questions: Did zoo officials make the right decision by shooting the gorilla, even though it is an endangered species? Why or why not?
Written by Tara Benwell for EnglishClub
Tara Benwell is a Canadian freelance writer and editor who specializes in materials and articles for the ELT industry.
Subscribe to EnglishClub Podcasts

5 Comments on "Boy Falls into Cincinnati Gorilla Enclosure"
Please let us know your thoughts in the comments section below