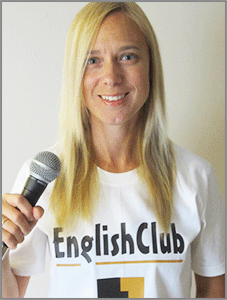 Listen to News with Tara Benwell - Instructions:
1. Preview the vocabulary and read the gapfill text.
2. Play the news report and try to fill in the blanks.
3. Answer the comprehension questions by writing full sentences.
4. Use the discussion question to write an essay or discuss the story with other students.
5. Click "show Answers" to see the full text.
6. Pretend to be a news anchor by reading each story out loud.
dateline: 04 October 2017
Catalan Voters Seek Independence from Spain
Pre-Listening Vocabulary
Catalan: of or related to Catalonia (a region of Spain that includes Barcelona)
independence: the state of having one's own country, laws, and economy
referendum: a vote with two choices
ballot: a piece of paper that one uses to mark a vote
boycott: to refuse to participate or use
general strike: a mass, organized refusal to work by all different sectors
Catalan Voters Seek Independence from Spain
Comprehension Questions
What were people voting on in Catalonia on Sunday?
How did Spanish police react to the voting and why?
What happened on Tuesday?
Discussion Questions: Spain's central government rejects the referendum, because its 1978 constitution states that the country is indivisible. Do you think this is a valid part of a constitution? Why or why not?
Written by Tara Benwell for EnglishClub
Tara Benwell is a Canadian freelance writer and editor who specializes in materials and articles for the ELT industry.
Subscribe to EnglishClub Podcasts

4 Comments on "Catalan Voters Seek Independence from Spain"
Please let us know your thoughts in the comments section below