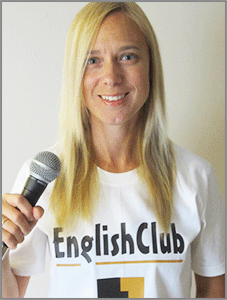 Instructions:
Preview the vocabulary and read the gapfill text.
Play the news report and try to fill in the blanks.
Answer the comprehension questions by writing full sentences.
Use the discussion question to write an essay or discuss the story with other students.
Click "show Answers" to see the full text.
Pretend to be a news anchor by reading each story out loud.
Science Clears Name of "Patient Zero"
dateline: 27 October 2016
Pre-Listening Vocabulary
HIV: human immunodeficiency virus
vilified: made into a villain (bad guy)
scapegoat: a person who is unfairly blamed for all that went wrong
boast: to speak proudly about something
clear one's name: to prove that someone is innocent
sophisticated: advanced; high tech
Science Clears Name of "Patient Zero"
Comprehension Questions
Who is Gaetan Dugas?
What did scientists use to clear Dugas's name?
What were the findings of the study?
Discussion Questions: In a medical diagram of a mysterious disease (AIDS), Dugas was identified as "Patient O" because he was from "outside" of California. He became famously known as "Patient Zero" when the letter O was misrepresented by the number 0 and a book was written about him. What are the dangers of focusing on a single patient (the first to carry a disease) when investigating an epidemic?
Written by Tara Benwell for EnglishClub
Tara Benwell is a Canadian freelance writer and editor who specializes in materials and articles for the ELT industry.
Subscribe to EnglishClub Podcasts

Please let us know your thoughts in the comments section below