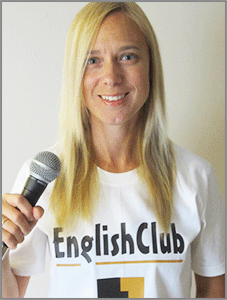 Instructions:
Preview the vocabulary and read the gapfill text.
Play the news report and try to fill in the blanks.
Answer the comprehension questions by writing full sentences.
Use the discussion question to write an essay or discuss the story with other students.
Click "show Answers" to see the full text.
Pretend to be a news anchor by reading each story out loud.
US Presidential Debate Breaks TV Record
dateline: 28 September 2016
Pre-Listening Vocabulary
debate: a formal argument or discussion between at least two people
candidate: a person who has a chance of filling a position
tune in: to turn a television or device to a certain channel
take into account: to count something towards the total
declare: to make a formal announcement or statement
US Presidential Debate Breaks TV Record
Comprehension Questions
Who are Mrs Clinton and Mr Trump?
What record did they break?
What does the number 84,000 not include?
Discussion Questions: What is the role of a moderator in a debate, and what qualities does a good moderator have?
Written by Tara Benwell for EnglishClub
Tara Benwell is a Canadian freelance writer and editor who specializes in materials and articles for the ELT industry.
Subscribe to EnglishClub Podcasts

One Comment on "US Presidential Debate Breaks TV Record"
Please let us know your thoughts in the comments section below