The Goat
Goats prefer to remain anonymous whenever possible.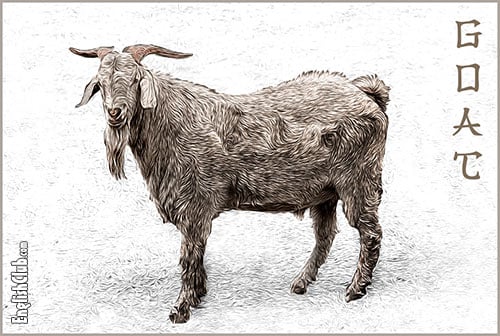 Birth Years:
1943, 1955, 1967, 1979, 1991, 2003, 2015, 2027, 2039, 2051
Compatible with:
Rabbit and Horse
Birthstone:
Sapphire
Precious Flower:
Larkspur
Western Equivalent:
Cancer
Strengths:
artistic, compassionate, laid back
Weaknesses:
lazy, pessimistic, insecure
The Goat, also known as the Sheep or Ram, is the most feminine sign of the Chinese Zodiac. People born in the Year of the Goat are said to be compassionate and intelligent. Goats are often accused of being worrywarts. They are always worried about problems that are not their own, and they enjoy taking care of others. Goats don't like to be singled out. They prefer to remain anonymous whenever possible. Goats also enjoy relaxing in their own homes rather than socializing with others. People who are born in the Year of the Goat rarely lead the way. They are much happier going with the flow.
Podcast: Play in new window | Download (0.0KB)
Subscribe: Apple Podcasts | Google Podcasts | RSS | More
---
Wordchecker
compassionate (adjective): loving
worrywart (noun): a person who worries about everything
single out (verb): to put the attention on one person
anonymous (adjective): unnamed or unknown
go with the flow (verb): follow the pace or direction of others
2 comments
Caleb says:


Born in 1991 happy to have a sheep as my zodiac sign

jocelyne says:


My feminine sign of Chinese Zodiac is my really my personnality. Thanks for that.