Airplane Mode Saves Your Battery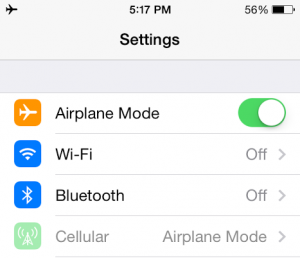 Interesting Facts in Easy English
Pre-Listening Vocabulary
switch: move to a different position
Wi-Fi: a wireless network that provides Internet connection
Bluetooth: a trademarked name for a short-range wireless connection for computerized devices
GPS: global positioning system, a satellite-based system that provides the location of a device or object
interfere: get in the way; cause a disturbance
charge: to restore power to something that uses a battery
distraction: something that causes you to take your attention away from a task or focal point
Podcast: Play in new window | Download
Airplane Mode Saves Your Battery
Comprehension Questions
What does airplane mode do to a mobile device?
Why is it important to set a mobile device to airplane mode when on a plane?
How can airplane mode come in handy when you're not travelling?
Discussion Questions: How was life different before cell phones and mobile devices? If you could go back to a life that wasn't so dependent on batteries and plugging in, would you?