Airplane Mode Saves Your Battery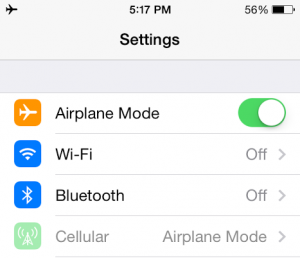 Interesting Facts in Easy English
Pre-Listening Vocabulary
switch: move to a different position
Wi-Fi: a wireless network that provides Internet connection
Bluetooth: a trademarked name for a short-range wireless connection for computerized devices
GPS: global positioning system, a satellite-based system that provides the location of a device or object
interfere: get in the way; cause a disturbance
charge: to restore power to something that uses a battery
distraction: something that causes you to take your attention away from a task or focal point
Podcast: Play in new window | Download
Subscribe: Android | Google Podcasts | RSS
Airplane Mode Saves Your Battery
Comprehension Questions
What does airplane mode do to a mobile device?
Why is it important to set a mobile device to airplane mode when on a plane?
How can airplane mode come in handy when you're not travelling?
Discussion Questions: How was life different before cell phones and mobile devices? If you could go back to a life that wasn't so dependent on batteries and plugging in, would you?
3 comments
Sabri ISMAIL says:


Hi,

In my opinion ,to be connected all the time is not good thing, the cellularphone towers cause more damaged to human and environnement. Many sciences research was measured their bad effects to the nature.

But, in the other side the celleular phone was saved more life in an emergency situation.

I think that is more dofficult to me and to humanity in general to return back without technologies.

Donia says:


Our life before cellphones and mobile devices was simple and bases human values.At first, people didn t wait an occasion for visite members of family or Friends, though,nowaday it become so different just by a call that de fer their news, Also, people become less gregarious they prefer to be in social media,to play games alone by phone device.then,it s really unhealthy it damage our eyes.However,it has many advantages,the most important for me that it remove the barrier of distance when de live so far from family.Finally if i could back to a life before i will prefer without this dependance of cellphone.

Soumaya ALOUI says:


actually living without a cell phone it is impossible because it facilitates our life of communication .