Alexander Graham Bell Preferred "Ahoy" To "Hello"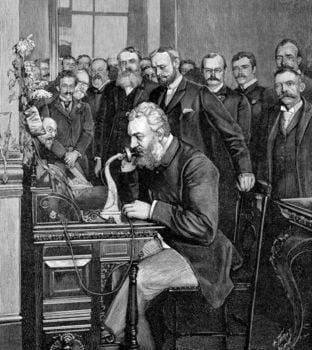 Interesting Facts in Easy English
Pre-Listening Vocabulary
device: a piece of equipment
nautical: related to shipping or boating
rival: a person that one is often in competition with
side: to choose one person or argument to agree with
etiquette: manners; proper behaviour and language
Podcast: Play in new window | Download
Subscribe: Android | Google Podcasts | RSS
Alexander Graham Bell Preferred "Ahoy" To "Hello"
Comprehension Questions
What did Alexander Graham Bell say when he answered the telephone?
Why does the report mention Thomas Edison?
What information was provided for telephone users in early telephone books?
Discussion Questions: How has telephone etiquette changed with the invention of the mobile phone? If you don't know, ask someone who is older than you and report your findings to a classmate or friend.
6 comments
Mohamad Alkawekji says:


1.Ahoy.
2.Because he had different suggestion for greeting someone on the phone.
3.Telephone etiquette.

syed says:


I thought it was interesting finding out about the person that invented the telephone.

Hassan Khatir says:


1- Alexander graham bell said ahoy when he answered the phone.

2- the report mentions Thomas Edison he was bell's rival and he had a different suggestion for greeting someone on the phone. Hello.

3- telephone etiquette was provided for users in early telephone books

Joe Exotic says:


KILL CAROL

Anderson Carrijo says:


Ahoy !

alejosanik3 says:


j,bwefhjkrf