Crocodiles Tear Up While Eating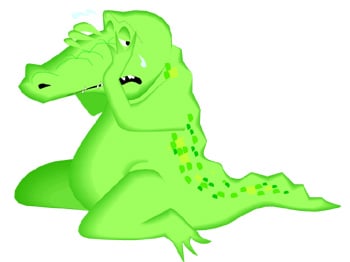 Interesting Facts in Easy English
Pre-Listening Vocabulary
tear up: to cry a little bit; to become weepy
insincere: fake; not truthful
shed: to drop or remove something, such as a layer of skin or a tear
remorseful: full of guilt
sympathy: a feeling of sadness for another person's loss
paralysis: the inability to move an area of the body
Podcast: Play in new window | Download
Subscribe: Android | Google Podcasts | RSS
Crocodiles Tear Up While Eating
Comprehension Questions
What does it mean if a mom says her son has a bad case of "crocodile tears"?
What do scientists think crocodiles are incapable of?
Why does the report mention facial paralysis?
Discussion Questions: How can you tell whether or not a child is truly hurt or sad or whether he's crying crocodile tears?