The Diomede Islands: Tomorrow Island & Yesterday Isle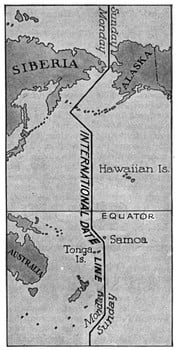 Interesting Facts in Easy English
Pre-Listening Vocabulary
strait: a narrow waterway
The International Date Line: an imaginary line in the middle of the Pacific Ocean where the time zones on either side are 24 hours apart
border: a line that defines the ownership of a region
time zone: one of 24 divisions of time around the world
nickname: to call a person or thing a fun, shortened, or memorable name
Podcast: Play in new window | Download
Subscribe: Google Podcasts | RSS
The Diomede Islands: Tomorrow Island & Yesterday Isle
Comprehension Questions
Which nation owns Big Diomede?
How far is Big Diomede from Little Diomede?
Why are these closely situated islands nicknamed Tomorrow Island and Yesterday Isle?
Discussion Questions: Do you live in a different time zone from a close friend or family member? What difficulties does this cause?
2 comments
osama says:


I live in the United Kingdom. One of the difficulties we have faced due to the timezone. Also, there is a 4 and in winter there is a difference of 5 hours from Pakistan timezone. The timezone of UK right now is UTC + 1 and in Pakistan, it's UTC +5. I only talk at the weekend with my family in Pakistan. When I get to return home from work, So I don't have time to talk in the home.

Rifdah Nur Hidayati says:


I don't know about this fact before.