An English Breakfast Is A Full Breakfast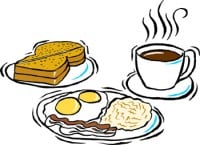 Interesting Facts in Easy English
Pre-Listening Vocabulary
continent: a large region of the world with various countries; or the mainland of a region as opposed to its islands
full-bodied: strong
croissant: a flaky, crescent-shaped French pastry
waffle: a crisp breakfast cake made from batter and served with butter and sweet toppings, such as syrup or fruit
Podcast: Play in new window | Download
An English Breakfast Is A Full Breakfast
Comprehension Questions
Originally, how did an English breakfast differ from a continental breakfast?
What might a hotel serve for a continental breakfast in North America?
What does the term "English Breakfast" typically refer to in North America?
Discussion Questions: Do you think it's important to start your day with a full breakfast, or are you more inclined to have a light breakfast and a large lunch or dinner/supper? Which is your most important meal of the day, and why?
One Comment
germain RANDRIA says:


Hi !
I really think that a full breakfast is very important because I can't act freely if I'm hungry. Full breakfast is real energy of the day for me that's why I prefer the breakfast than other meal of the day. It's great.