Olympic Gold Medals Are Made Of Silver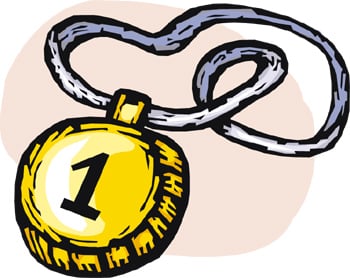 Interesting Facts in Easy English
Pre-Listening Vocabulary
host country: the nation that holds the event
IOC: International Olympic Committee
composition: what something is made of
gold-plated: containing a layer of gold on the surface
monetary value: the amount something is worth
Podcast: Play in new window | Download
Subscribe: Android | Google Podcasts | RSS
Gold Medals Are Made Of Silver
Comprehension Questions
What has changed about Olympic gold medals since 1912?
What must an Olympic gold medal contain?
How much was a 2014 gold medal worth at the time of the Olympics?
Discussion Questions: When it comes to Olympic standings, should "bringing home the gold" be the most important thing, or should countries be ranked by total medals? Or, perhaps you agree with some Olympic critics who feel that nations should stop counting altogether.
5 comments
João Victor says:


1-What has changed about Olympic gold medals since 1912?
R:Gold medals are mostly composed of silver.
2-What must an Olympic gold medal contain?
R:A gold medal must contain 6 grams of gold.
3-How much was a 2014 gold medal worth at the time of the Olympics?
R:The monetary value of the 2014 gold medals was approximately $ 550.

Editor says:


@Zakumi: 2014 Winter Olympics in Sochi, Russia?

Hassan says:


Hello
And good afternoon.
First of all I am going to thak you for your iformative article.

I really did not know what the Olympic gold medals are made of. I was thinking that a gol medal is 100% made of gold. But now I understand that it has only 6 grams of gold.
And I now I know all about the olympic gold medals, like the price and percentage of gold in it.

Ramniwas Bated says:


This article is very knowdgeable as well as improvable my english.I appreciate this article. I have known what the gold medal is made of. A gold medal must contain six grams of gold for its prescribed monetary value worthwhile. A gold medal is realyy not made of completely gold but it has a layer of gold on its surface. Composition means what something is made of. Full form of IOC I have already known.I do'nt know what kind of comments you want but I understand that this is for my english language improvement.
Thanking you.
Yours Faithfully

Zakumi says:


Hi. There wasn't a Olympic Games in 2014 … So, which medals are you referring to?! Guess you meant the 2012 London Games? 😉