A Pretzel Is A Little Reward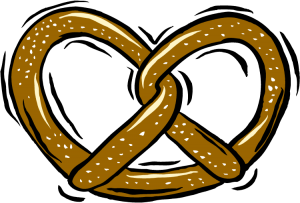 Interesting Facts in Easy English
Pre-Listening Vocabulary
legend: a story from long ago that may or may not be true
monk: a religious leader
concentrate: to focus on a task
bribe: to offer a reward in exchange for an action
leftover: not used or needed
tie the knot: to get married
Podcast: Play in new window | Download (615.2KB)
Subscribe: Apple Podcasts | Google Podcasts | RSS | More
A Pretzel Is A Little Reward
Comprehension Questions
What is the origin of the word "pretzel"?
According to the legends, what two shapes might a pretzel represent?
What does the expression "to tie the knot" have to do with pretzels?
Discussion Questions: Do you think it is wise to reward or bribe children with food? Why or why not?