Santa's Reindeer Must Be Female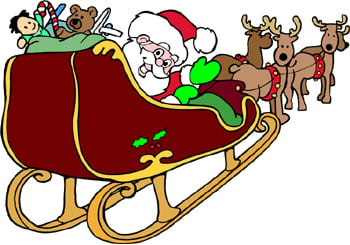 Interesting Facts in Easy English
Pre-Listening Vocabulary
depict: to show visually
antlers: branch-like horns made of bone
mating season: the time of year when animals reproduce
Podcast: Play in new window | Download
Subscribe: Android | Google Podcasts | RSS
Santa's Reindeer Must Be Female
Comprehension Questions
What does the word reindeer mean, and which language did it originate from?
What do male reindeer use their antlers for?
Why do the depictions of Santa's reindeer suggest that they are female?
Discussion Questions: The plural form of reindeer is reindeer. What other animals have the same singular and plural form in English? Why do you think this is the case?
One comment
beevguy says:


Santa's Sleigh Reindeer are Steer's… All Sledders use steers because they maintain their body condition throughout the winter, Bulls are tuckered out from rutting season when they mate with as many, they shed their antlers after mating with as many as a dozen females in the months leading up to December. That leaves them depleted and too lean to pull a sleigh or sled through heavy snows.

There are no female Reindeer in Santa's team…