Figure Skaters Do Get Dizzy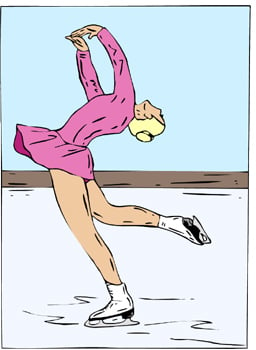 Interesting Facts in Easy English
Pre-Listening Vocabulary
upright: in a vertical position
conceal: hide
rotation: a complete turn around
fixate: to stare at one thing
orient: to find one's place
interlude: a small break from a routine
tolerance: an ability to withstand something after repeated exposure or experience
second nature: something that is learned but seems natural because it has been done so many times
Podcast: Play in new window | Download
Subscribe: Android | Google Podcasts | RSS
Figure Skaters Do Get Dizzy
Comprehension Questions
Do figure skaters experience dizziness?
What trick do figure skaters use to convince the audience that they don't feel dizzy after a spin?
Why can't skaters rely on the technique of "spotting" that dancers use?
Discussion Questions: Describe something that has become second nature to you due to repeated practice or exposure. Do you have any tricks for beginners?