A Traffic Jam That Lasted Ten Days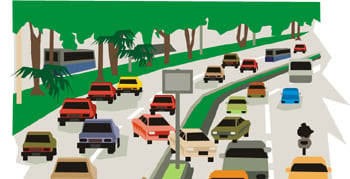 Interesting Facts in Easy English
Pre-Listening Vocabulary
traffic jam: the loss of vehicle flow on a roadway
congestion: heavy traffic that prevents vehicles from moving quickly
rely on: to require help from others
haul: to carry a heavy load
expressway: highway; roadway where vehicles are permitted to drive quickly for long distance driving
volume: a large amount of something
breakdown: a vehicle failure
Podcast: Play in new window | Download
Subscribe: Android | Google Podcasts | RSS
A Traffic Jam That Lasted Ten Days
Comprehension Questions
Where was the traffic jam?
How did local residents make money during the traffic jam?
What was the main cause of the congestion?
Discussion Questions: What are some of the main reasons that people get stuck in bumper-to-bumper traffic? What should motorists have in their vehicles in case of situations like this?