Trailers Used To Come After the Film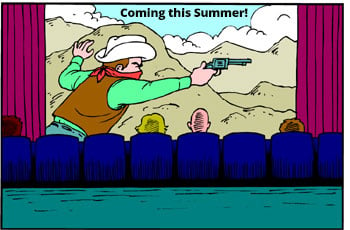 Interesting Facts in Easy English
Pre-Listening Vocabulary
trailer: a movie preview
potential: possible in the future
feature film: a full-length film being shown in a movie theatre
stick around: to remain in a location
stick: to last a long time
Podcast: Play in new window | Download
Subscribe: Android | Google Podcasts | RSS
Trailers Used To Come After the Film
Comprehension Questions
What is a "trailer" in the film industry?
Why was this word "trailer" originally used for these clips?
Why was the timing of trailer showings switched around?
Discussion Questions: When you go to the theatre to watch a film, do you enjoy watching the trailers, or do you wish they would just get on with the show? Do trailers give too much away?