A Day on Venus is Longer Than a Year on Venus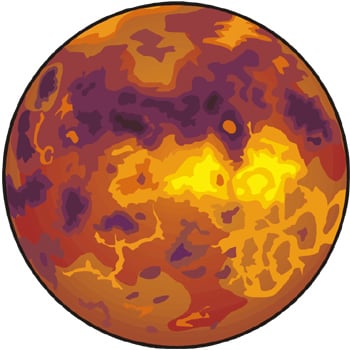 Interesting Facts in Easy English
Pre-Listening Vocabulary
revolution: to go around something (Earth revolves around the Sun.)
rotation: the spinning of something (Venus's rotation is backwards.)
axis: a real or imaginary line that something rotates on
retrograde: in a backwards movement
Podcast: Play in new window | Download
Subscribe: Android | Google Podcasts | RSS
A Day on Venus is Longer Than a Year on Venus
Comprehension Questions
What interesting fact is the main topic of this report?
What is the scientific definition of a day?
Why does the report mention Uranus?
Discussion Questions: Venus is sometimes called Earth's sister or twin planet. Why do you think this is? Do a little research to find out what similarities and differences there are between Venus and Earth. Does your city, town, state or province have a sister?
5 comments
Fatima yawar says:


Respected ma'am I have done

Fatima yawar says:


Ma'am I have done

osama says:


Earth and Venus are known to be as a sister planet or twin planet. The reason is that because radius and mass of earth and Venus is quite similar. Moreover Venus is more close to the sun. Scientist discover many things on Venus and they are must similar to earth. So that the reason why people says that Venus is twin planet. Most of the people consider Manchester as a twin of Wuhan the Capital City China. Accordingly, the most common factor people consider as both the cities economy and the population.

Ahmad Amin says:


These passages really help for academic English improvement. One passage has the reading, listening, speaking, writing and vocabulary activities.

Ali mahmoud says:


It's very interesting and I love it because it focused on listening and pronunciation