Vultures Aren't Just Ugly Birds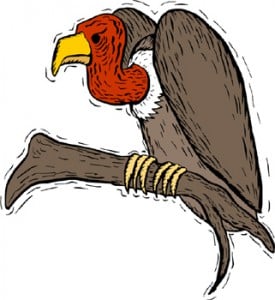 Interesting Facts in Easy English
Pre-Listening Vocabulary
scavenger: one that searches for or feeds on discarded or dead matter
carcass: dead body of an animal
take for granted: to not appreciate someone or something
antibiotic: a type of drug that kills off tiny, harmful organisms
extinction: the complete loss of a species
stench: a terrible smell
Podcast: Play in new window | Download
Subscribe: Android | Google Podcasts | RSS
Vultures Aren't Just Ugly Birds
Comprehension Questions
Why do vultures have bald heads and necks?
What caused the major decline of vultures in India?
How did the loss of the vulture population affect humans?
Discussion Questions: The English expression "don't judge a book by its cover" applies to animals such as vultures. What other animals have a bad reputation due to their odd appearance or behaviour?
3 comments
garvita says:


It was a very nice session with you. I had a lot of fun. It was very interesting. Thank you for such a nice and wonderful class.

AAYUSH TAYAL says:


FOR ME THIS WAS GREAT AND FUN SESSION BUT WE LEARND ONLY FEW THINGS AND MOSTLY SAW ABOUT THE HOMEWORK WE ARE GOING GET …

Jiya Sabu says:


Great session,I had lots of fun. Thank you for such a nice session