Windowless Airplanes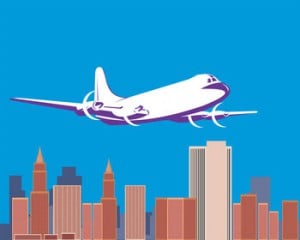 Interesting Facts in Easy English
Pre-Listening Vocabulary
concept: a model or design based on an early idea
flexible: bendable; not rigid
OLED: organic light-emitting diode
fuselage: the body of an aircraft where the passengers and crew are situated
aerodynamic: a long, slender shape that reduces drag and allows a vehicle or creature to fly efficiently
the sky is the limit: the options are endless
panoramic: with a wide view
vista: pleasant view
Podcast: Play in new window | Download
Subscribe: Android | Google Podcasts | RSS
Windowless Airplanes
Comprehension Questions
Why would windowless airplanes be less expensive to fly?
What might take the place of airplane windows in future airplanes?
What does the report say about the shape of these future planes?
Discussion Questions: Do you think windowless planes are the planes of the future? Would you pay less for a flight in exchange for a continuous wall of advertising?