Games to learn English
An EnglishClub Site of the Month (January 2019)
This wonderful ESL games site has been around since 2010 but has been updated to avoid the use of Flash and to be user-friendly on Android and iOS devices. Created by Owen Dwyer, Games to learn English is packed with online games where ESL learners can play independently to practise their English.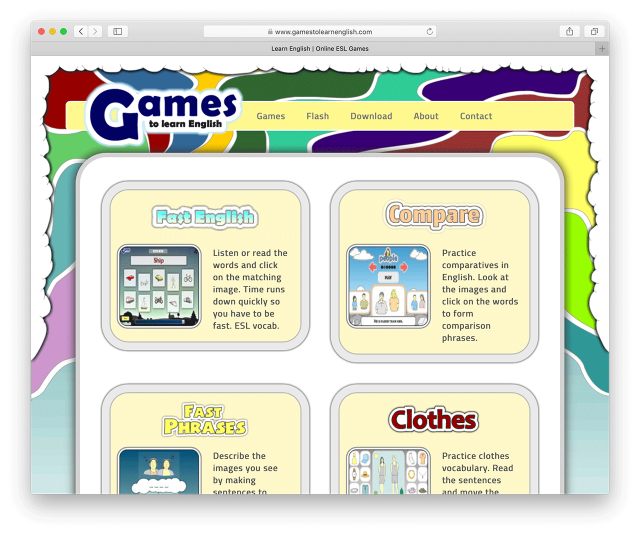 It's a beautifully designed site, with wonderful images and even excellent audio as part of some games. The level of most games is elementary, but it's fun and interactive and frankly good revision for all levels.
Owen welcomes feedback and tries to reply to any emails sent through the site's contact page.
11 comments
Daniyah says:


Hi i am daniyah .

Arsal says:


I love English

Vishal says:


Mujhe English sikha do Bhai. teach me english bro

Soni says:


Yes

Dhan says:


I goona leaned english

Athifah says:


Thank you 🙂

Sofia says:


Thank YOU

ahsah says:


Thank you very much !

Linh says:


thank you very much!!!

Nabil Sargi says:


Thanks a million ,it's really useful games .

KYRIAKH XYNTA says:


thank you very much!!! really useful!!!