Satisfy your Sweet Tooth
Podcast: Play in new window | Download (0.0KB)
Subscribe: Apple Podcasts | Google Podcasts | RSS | More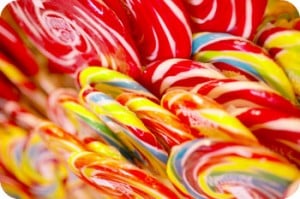 Just because you're in an English speaking country, doesn't mean you'll stop
craving
sweets! Make sure you know how to satisfy your sweet tooth. You may need to order dessert, shop for candy, or describe the delightful experience of trying out a new treat.
Types of Dessert
"May I see the dessert menu?" Practise this line before you enter a restaurant or cafe. It's okay to eat a sundae for dinner if you don't think you'll have room after the main event.
pie (apple, lemon marangue, pumpkin, pecan)
cake (cheesecake, sponge cake, shortcake, brownie, carrot)
cupcakes: mini cakes with icing on top (popular for kids)
ice cream cones/sandwich/sundaes
sorbet
mousse
cookies and biscuits (chocolate chip, peanut butter, shortbread, ginger)
squares and bars
pastries (donuts, tarts, fritters)
Types of Toppings and Fillings
These days, people rarely just order a scoop of vanilla ice cream!
icing/frosting: smooth sugary layer on top of cakes
chocolate syrup
butterscotch syrup
strawberry syrup
sprinkles: hard flakes of coloured sugar
powdered sugar
cinnamon
peanuts
almonds
whipped cream
chocolate shavings
custard: sweet milk and egg mixture
jelly or fruit compote: sweetened and mashed berries or fruit with sugar
chocolate chips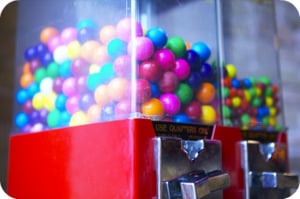 Types of Candy
You can buy candy at a candy shop or a sweet shop or a corner store or a grocery store. You can also raid the bulk food section or a booth at a market to get your sugar fix.
hard candies (wrapped)
chocolate bar/candy bar
liquorice (red or black)
mints
cinnamon hearts (spicy)
sour candies
candy corn (orange and black cone shaped)
jellybeans
jujubes
bubble gum/gumballs/stick of gum
gummy bears/worms
candy floss (also called cotton candy)
lollipops
candy apple
chocolate or candy coated raisins/peanuts/pretzels
taffy
powdered candy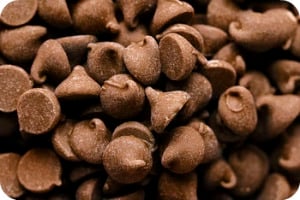 Types of Chocolate
Are you a chocoholic? If so, you probably have a preference to one of these types.
milk chocolate
dark chocolate
semi-sweet
white chocolate
unsweetened chocolate
mint chocolate
How to Describe Sweets
"How is your dessert?" Practise these descriptive words and phrases or simply lick your lips and nod happily if you are enjoying a bite.
delicious
scrumptious
tasty
yummy
to die for
*If you don't like your dessert or treat you can say it is too:
sticky
sour
sweet for my taste
heavy: you feel too full after you eat it
rich: the taste is too strong (such as dark chocolate)
bland: not enough taste
*If you're only looking or still thinking about what to choose you can say the treats look "mouth watering" or "tempting".
No Thank You
"Did you save any room for dessert?" This is what many servers will ask at a restaurant. If you don't want dessert, you can say "I'd love to, but I'm afraid I'm full." If the dessert menu doesn't interest you, you can say "We're going to pass on dessert tonight. Thank you."
Spelling Tip
Dessert has two s's and "desert" (dry land) has one "s". Think of dessert as being extra special. This is why it needs an extra "s".
Comments: Let's talk about sweets! What's your favourite type of candy or dessert? Is there a treat we should try when we visit your country?
Written by Tara Benwell for EnglishClub
| May 2010
Tara Benwell
is a Canadian freelance writer and editor who specializes in materials and articles for the ELT industry.