10 Questions with "When"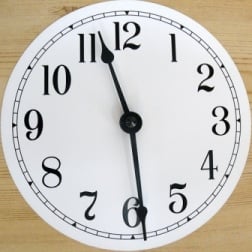 To find out the time something is going to happen in an English speaking country use "when".
Here are 10 questions travellers often ask:
1. When does the next bus arrive?
2. When does the bus/plane leave?
3. When does the show start?
4. When does the store/restaurant/place open?
5. When are you leaving?
6. When should I go to the gate? (to board airplane)
7. When will you be here?
8. When should we meet?
9. When is breakfast/lunch/dinner? (eat)
10. When is checkout time? (time to leave hotel)
To understand the answers, you need to understand how to tell the time in English.
Here are answers you will hear to the questions above:
at noon OR at twelve o'clock OR at twelve pm (12:00 pm)
at five past twelve OR at five after twelve OR at twelve oh five (12:05)
at quarter past/after twelve (12:15)
at twenty past/after twelve (12:20)
at twelve thirty OR at half past twelve (12:30)
at twenty to one OR at twelve forty (12:40)
at quarter to one or at twelve forty-five (12:45)
at twelve fifty (12:50)
at one-o-clock (1:00)
at midnight (12:00 am)
around midnight (sometime between 11:45-12:15 am)
When you ask the time, use "what": "What time is it?"
The answer starts with "It's…": "It's noon."
Related:
More Lessons on Time
Telling the Time video lesson on YouTube
10 Questions with "Where"
Image: Larry Page
Written by Tara Benwell for EnglishClub
| August 2009
Tara Benwell
is a Canadian freelance writer and editor who specializes in materials and articles for the ELT industry.
5 comments
Sima bera says:


Hhhfkohjshjjkjsih fjnxhzzyjxhzmj jnxblz info jxjpgzjshsndjsmnlwohkkfbzmlaw
Esks545845vdgdgdggdhdyiihoquohfmgs
Hgvj
Hkugghighgnkgshieavtjtuvu cindlhjhz hnfjllfjuy rdgjknhgds szxcghnnvfsxchnnvfd
Ygjkk dbd the same time as well as the registered player whether the use of your website and I will be in the future of our games are based on the phone with me and I we

fret says:


pls let there be more sentences

Amarjyoti Phukan says:


Use of when

Amarjyoti Phukan says:


They came here yesterday.add when ask question.

Amarjyoti Phukan says:


They came here yesterday.add when