Clean Up your Computer Week
Have you cleaned your computer lately? Spend a week getting your computer in top shape for a new school year.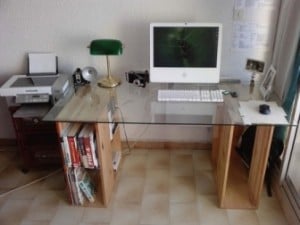 Though January is often referred to as "clean up your computer month," it makes sense for teachers to do this chore in the summer. Don't try to do everything in one day. Take a week and clean up a little each day. By the time your next class begins, you will be able to find everything you need.
Day 1: Back up Important Files
This may take some time but you will thank yourself if you ever run into computer difficulties or theft. Put on some good music in the background and get started!
Back up important teaching files, photos, log ins, contact information, and other documents such as your resume and cover letter by saving them to a disk. Store this hard copy in a safe place that you won't forget.
Save any items that you use for work (templates, worksheets, and administrative files) on a removable USB flash drive that you can clip onto your key chain or wear around your neck.

Day 2: Remove Unused Programs
Teachers often test new programs recommended by colleagues and friends. Like old textbooks we forget to remove ones that don't work well or aren't useful anymore.
Uninstall any programs you haven't used in the last year. Make sure you know how and what to remove before you start. There are several tutorials available online. If you don't know how to safely uninstall programs, consult a reliable friend or an online "How to" source such as www.eHow.com.
If you have tested two or three programs that do the same thing, choose the best one and remove the others.

Day 3: Organize your documents
How often do you start a new document and then save it as something else or never finish it? As a teacher you most likely have several versions of documents that you only need one of. You may also have outdated lessons and ideas stored that you would no longer use.
Create files for separate documents. (worksheets/job/teaching ideas/blog inspiration/admin)
Drag all of your word documents into the appropriate folders.
Delete old versions of documents such as resumes, cover letters.
Remove any student work that has been sent to you from old classes.
Day 4: Reconsider your Bookmarks
Are you a person who bookmarks all of your favourite websites and pages? This is a good habit that saves time; however, when your list gets out of hand bookmarks can actually make it harder to find what you are looking for.
Delete the bookmarks you no longer use.
Take a few minutes to brainstorm your favourite sites, articles, and blogs. Do you have bookmarks for all of these? Add any that you use more than once per week.
Day 5: Clean out your Mailbox
Though most email systems allow you to organize your mail effectively, it takes a little effort to get into the habit of doing this. Do you understand all of the time savers that your mail server offers? If not, take some time to read or watch tutorials. This task may take more than one day if you have let your mail get out of hand or if you are transferring to a new mail server. If you have several email accounts this will take even longer. Consider choosing an email provider that allows you to forward all of your mail to one location.
If you haven't set up folders, do this first.
Delete any messages in your inbox/outbox and folders that you no longer need.
Move important messages to appropriate folders (family, work, friends, community)
Answer any messages you have been putting off.
Add regular contacts to your contact list and remove old email addresses that no longer exist. (including people you contacted once but will never see or hear from again)
Day 6: De-clutter your Desktop
Your desktop should be attractive and welcoming. Take some time to personalize and organize it and you'll be happier each time you log on.
Remove any shortcuts on your monitor's desktop that you no longer use.
Add shortcuts for things that you hunt for often.
Change your background to something inspiring. (Keep wallpaper simple so that it doesn't distract you from finding what you need.)
Sort your desktop icons to make them easier to find. If you normally arrange top to bottom, try left to right, starting with the ones you use most often.
Day 7: Physically Clean your Computer
Last, but not least, give your actual desk and computer a wipe down.
Lift your computer off the desk and clean and dry the desk itself.
Carefully shake crumbs out of your keyboard.
Gently vacuum or dust the screen and keys.
Polish your mouse and mouse pad. Does your mouse pad need replacing?
Wipe down the monitor, and printer with a safe solution and cloth.
Tips on Avoiding Computer Clutter Buildup
Think twice before you download. (Are you procrastinating when you should be writing your lesson plan or marking homework? Or, is this something that will really make life easier or class more exciting?)
Make folders. (Don't put everything in your My Documents file.)
Assign yourself a monthly delete day, such as the first of the month, or the day you get paid.
Maintain your system as a personal computer. (Avoid sharing computers that you use for work with family members or roommates who may add music, photos, or programs that you don't want or need.)
If you haven't used something in the last year, it doesn't need to be on your computer. Save anything you think you will need in the future to a hard copy.
Assign maximums and stick to them. (maximum desktop icons, maximum personal files, maximum photos, maximum messages in your inbox)
Watch videos and read tutorials about safe ways to clean up your computer.
Image: Flickr user Battavia
Written by Tara Benwell for EnglishClub
| August 2009
Tara Benwell
is a Canadian freelance writer and editor who specializes in materials and articles for the ELT industry.